Microsoft has been more than happy to shed a few details on their various upcoming first-party games lately. But Crackdown 3? You might as well try and stop a hurricane with a fart before prying those details out of them. That being said, Crackdown 3 is still on the way, and most likely won't suffer the same fate as the recently cancelled Fables: Legends. Also, cloud stuff. Lots of it.
After all, Crackdown has always been a winner, especially when you consider that Crackdown 2 was never ever made. Nope, there's no such thing as this first sequel, which was a watered-down experience that offered virtually nothing new to the formula to kills for skills, agent. Just like most Germans will tell you that nothing happened from 1939 to 1945.
Anyway, here's the first image, which was posted on the Crackdown 3 forum and features some sort of energy doohickey weapon. You can thank senior art director Dave Johnson for this mysterious piece of futuristic gang-busting equipment:

Next up, that which puzzles me most in life: Facial hair. While the idea of growing a beard makes me want to rather carve my own face off with a spoon and pretend to be in a sequel to that Oscar-winning 1997 movie which starred John Travolta and Nicolas Cage at peak crazy, the rest of the world is a tad bit different. As part of the #FacialHairFriday campaign wherein developers encouraged their fans to submit an image of their favourite follicle style on a fictional character, the studio cranked out the following image of what Lemmy Kilmister would have looked like in Crackdown 3.
Or possibly some other unnamed agent, sporting a trendy set of handlebars: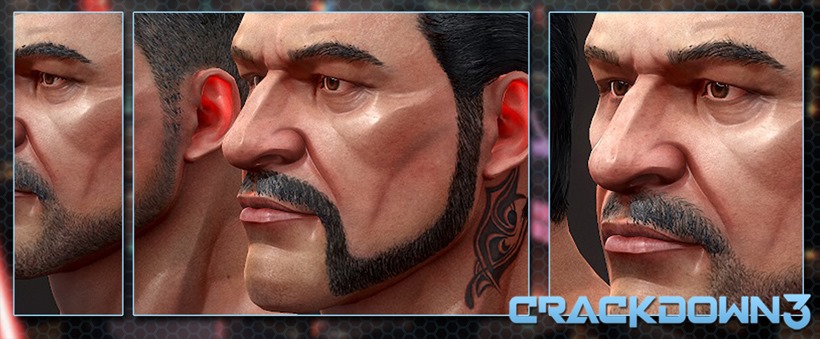 Hopefully, you can do the same with a female agent, because that'd just be hilarious. Crackdown 3 may not have a release date yet that would be delayed for quality reasons anyway, but series creator Dave Jones has hinted towards a US summer release this year for some slice of it, possibly a multiplayer beta or a standalone test before the main campaign rolls on in.
Last Updated: March 15, 2016