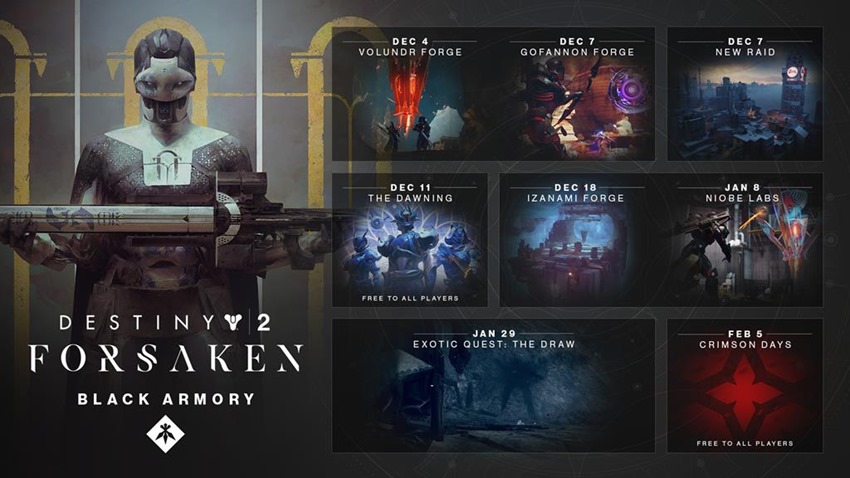 Destiny wasn't a traditional shooter when it first launched in 2014, as it threw all manner of RPG mechanics into its character systems and world. As untraditional as Destiny may have been to play, its method for content distribution hewed very closely to the ways of old. That system continued all the way into Destiny 2, as history repeated itself with Bungie's franchise: A stellar launch with no real endgame, two slices of underwhelming DLC and a much needed refresh of its ideas that revitalised the sequel.
Forsaken has been out for a couple of months now, and while it has done wonders for Destiny 2, it's time to move on. It's time to enter a new season of action and spectacle, as Bungie looks to lengthen the appeal of Destiny 2 and give players more regular content to update through its season pass. Here's a look at the road ahead, in the latest Vidoc:
If you can't see the video above, here's a rundown on what to expect. Bungie says that they want to avoid stuffing your face with everything that they have to offer all in one bloated go, as their content plans will play out like a long feast. Every new season will see players being given a chance to increase their power by a further 50 points, new weapons will be introduced and new quests will periodically rotate into the game world. Here's a quick look at some of the new Exotics as well:
Izanagi's Burden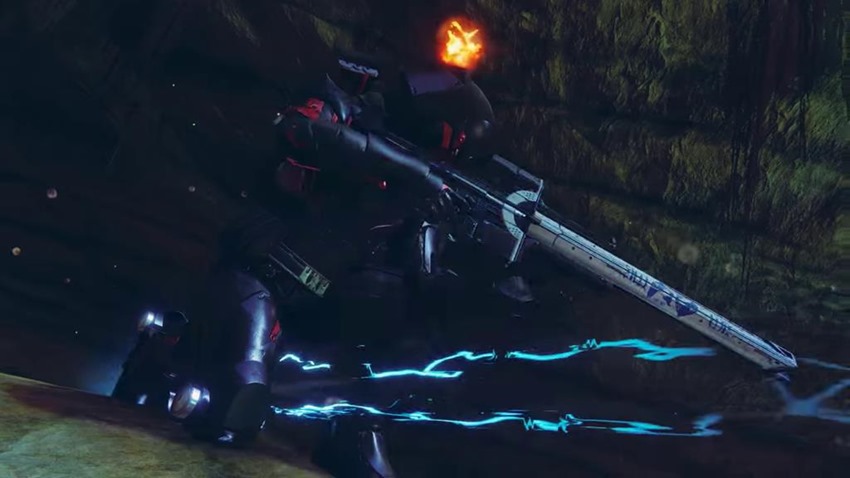 A sniper rifle that can combine all four rounds into a single shot for massive damage if you activate the special reload function. "It's a sniper rifle that can body-shot an enemy, that's all you need to say" says senior designer Gre Peng.
Le Monarque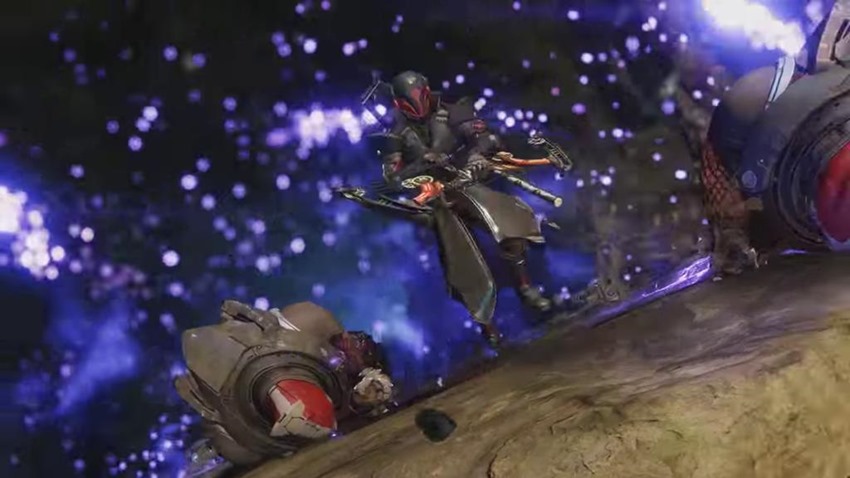 If you liked the infamous Thorn hand cannon, then you'll definitely love this new bow reckons design lead Josh Hamrick.
Jotund
A hand-mounted Fusion rifle, that Bungie refers to as an arm blaster. "Fires a giant fireball slug that will set the ground fire," says Hamrick. Also, it's a tracking slug, so game over man.
Anarchy
Outside of The Colony, grenade launchers have never been a heavyweight option in Destiny 2. Anarchy might change all that, as this weapon fires off rounds which can sync electric barriers together, creating a lethal barrier in the process.
Black Armory will focus on furthering that endgame experience, giving players new missions, five new Exotic weapons and better matchmaking solutions for public event horde modes such as the new Volundr Forge. "Throughout each of our three seasons and the Forsaken Annual Pass that rolls out alongside them, we intend to keep your Director filled with things to do each week," Bungie explained.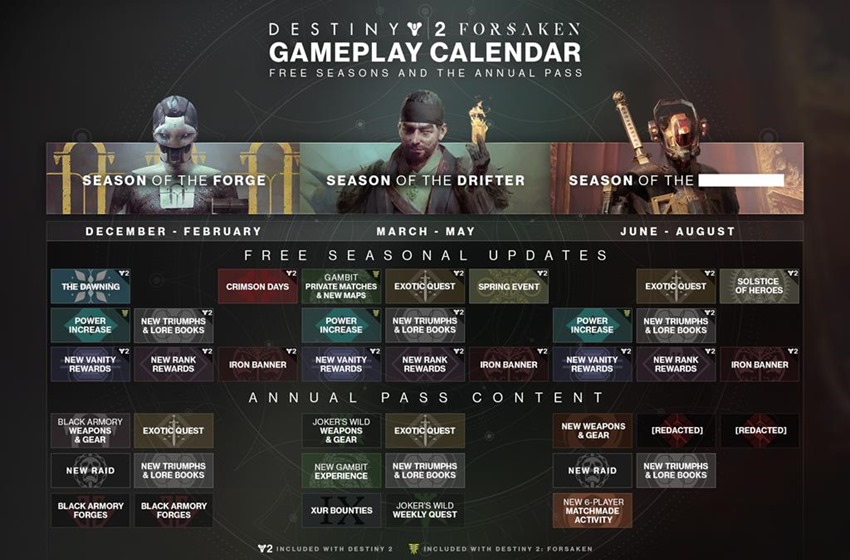 Some of those experiences will come and go (like the Dawning and Crimson Days), but others (like the Black Armory forges and raids) remain active after their initial introduction, building on the foundation of activities you can experience each week.

In the coming weeks, Annual Pass holders are in for a series of firsts. Beginning December 4, you'll be invited to visit the Black Armory. You'll be sent on a series of quests to rediscover, reactivate, and reclaim four lost forges—and the weapons they offer as reward. A new raid will open on December 7, and the bravest fireteams among us will make their initial runs in hopes of powerful rewards and community glory.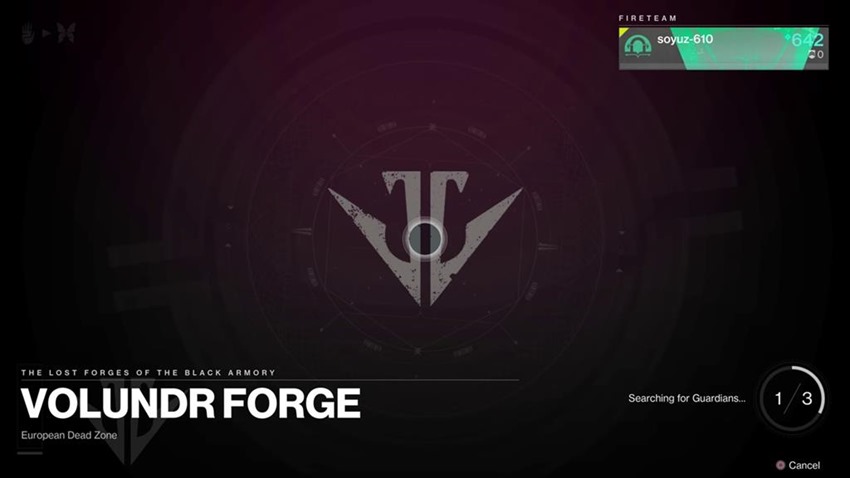 Sounds good! Going forward with Destiny 2, I'm not looking for more gigantic experiences such as Forsaken, but I am hungry for more meaningful events that helps build on the new foundation that Forsaken has created. Activities which slowly add more and more quality to the overall experience and helps reinforce Destiny 2's new hobbyish setup. I don't need to play Destiny 2 24/7, but always having something to look forward to, is going to make for a game that feels regularly rewarding.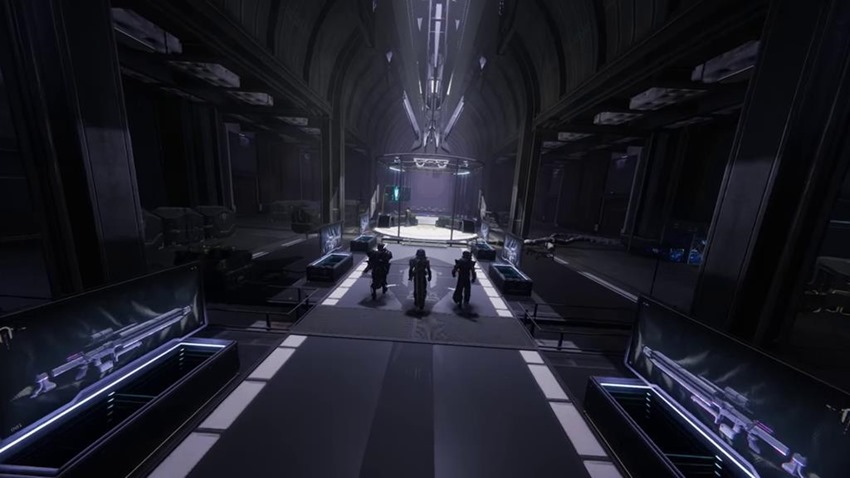 What more could you ask for?
Last Updated: November 28, 2018