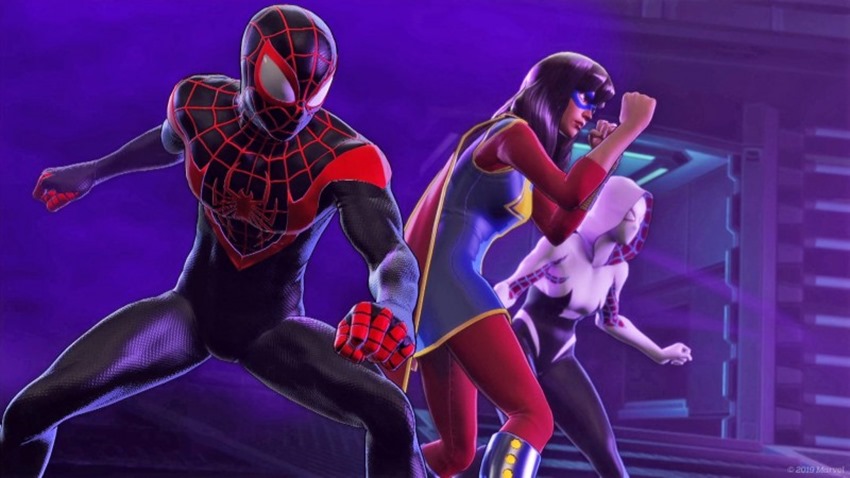 Marvel Ultimate Alliance 3: The Black Order is shaping up nicely. The revival of one of the more interesting franchises from yesteryear, this RPG featuring Marvel's mightiest looks like my kind of Switch game. A comic book RPG for the gamer on the go? I'LL TAKE TEN! There'll be 27 characters to play as when MUA3 launches on July 19, including plenty of favourites from across the Avengers, X-Men and Spider-Man character libraries.
No mention of Howard the Duck being playable though, for duck's sake. Two of the characters that you can expect to take for a spin, represent Marvel's new wave of heroes. The next generation, of heroic defenders who keep New York City safe from an assorted rogues gallery of ne'er-do-wells and other villainous jerks, Ms Marvel and Spider-Man. The Miles Morales fella I mean, whose animated flick last year is still the best Spider-Man movie of all time…Maybe. Hang on, I have to reference something.
Okay, second-best, but a damn close second at that. So how will they handle in MUA3? Game Informer is currently rolling out the details on the game as part of their month-long, and they've highlighted the super-duper abilities that Spider-Man and Ms. Marvel will be able to unleash on HYDRA faces. Just remember, for every HYDRA face you smash in, two more will take its place on your fist.
Ms. Marvel
Super Face Kick: A big lunging kick with an even bigger foot
Giant Foot Spinny Thing: Ms. Marvel spins round the battlefield with her giant foot, creating a tornado of big boot brutality
Sweet Combo Attack: Ms. Marvel throws out punches for as long as you tap the button, finishing off an opponent with an uppercut
Embiggen: Ms. Marvel dials her fist size up to 11 and then uses them to smash opponents with a hammer-like attack
Spider-Man
Web Shooter: Players can tap the action button to release a torrent of web fluid blasts on enemies
Surprise Strike: Turn invisible, sneak up on an enemy and then unleash Miles' uniquie bio-electric stinger attack
Venom Strike: Miles can amp up the bio-electric power, delivering a large electric sphere of damage right into a goon's face
High Voltage Lines: Miles fires off several electrified webs at enemy mobs
Looks fun! Hopefully, the skill tree for Wolverine will include abilities that reference that he's the best there is at what he does. And what he does is get an Australian actor to bulk up his muscles to impossible buffness in order to portray him accurately on the big screen…bub.
Last Updated: May 15, 2019