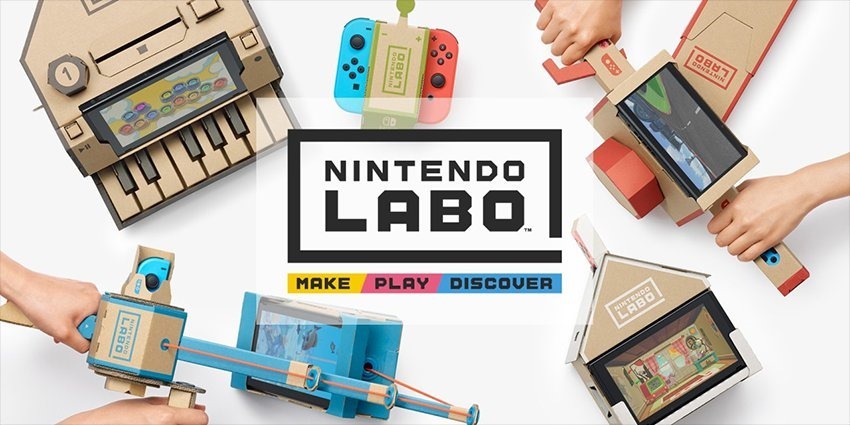 I'm blown away by Nintendo Labo for the Switch. Though my own kids are now a little too old for it, and I wouldn't get that much use out of the build-it-yourself toy and game combo, the unbridled creativity that Nintendo has not only displayed, but allows for is amazing.
When Labo was first announced, many wrote it off, decrying the $70 price for a stack of cardboard. Thanks to a new information dump from Nintendo yesterday, we've got a better look at how the build-your-own-toys from cardboard will work. They're a little more in depth than I'd have imagined – particularly the piano and motorbike bits of the Variety kit.
The Variety Kit will ship with 5 games along with the cardboard necessary to build the toys. The Piano will not only allow for different effects, but will even let you cut out waveforms from cardboard to create your own sounds. It'll let players loop the sounds they make, use cardboard punchouts to record and play loops, and use it all together to record full songs.
The motorbike game is a bit like a first person Excitebike, that'll let you create your own tracks in addition to just riding around the ones that already exist. Using the camera embedded in the right Joycon, it can be used to scan objects to be out into tracks to add depth. I give it five minutes after it hits retail for somebody to be driving up a penis-shaped hill. Importantly, the kit will alos come with it a mode that lets players create their own toys and games using a simple but robust programming language that seems to work off of an "if this then that" system. Those ideas can be then be shared using cardboard cut outs.
The other big bit of information was on how the Labo robot Kit will work. Players will strap into the kit after its built and smash things on screen. The game will feature specific challenges, single-player modes and a multiplayer mode for those who want to pit their robotic creations against each other.
Labo is coming on April 20 this year. Locally, it may be closer to the end of the month, with the Variety kit expected to retail at R929, and the robot Kit to be a little higher at R1099. I can't wait to see what creative and clever people do with it all.
Last Updated: February 15, 2018