I nearly died from excitement last night. I was up past my bedtime to cover the Ubisoft press conference, and after so many years I'm used to the disappointment. Ever year, I hope for Beyond Good and Evil 2, and every year I get stupid Ghost Recon or Steep or some other game that isn't Beyond Good and Evil 2. This year, that all changed, and I nearly burst into tears. I am far too excited about this game, although it's clear that it's still in very early stages. So, I've gone across the game's social channels, websites and the UbiBlog to gather all the information available so far.
First up, in case you missed it, here is the trailer as well as the trailer breakdown from Michel Ancel:
And this is the synopsis taken from the video descriptions:
Journey to System 3, for the prequel to one of Ubisoft's most beloved games! Fight alongside unforgettable characters in a stunning new solar system, as you struggle for freedom and the right to determine your own fate among the stars. Play the adventure by yourself or with friends in a vast and seamless online playground.

Beyond Good and Evil 2 is the spiritual successor to the cult classic, a prequel that will transport players into a profoundly multicultural world, capturing the spirit of the original with grandiose decors and intense dramas that play out across a vast universe. Through the Space Monkey Program, Ubisoft Montpellier will be developing the game alongside its community of fans.

System 3 has become the center of interstellar trade and colonization in the Milky Way of the 24th century, thanks to the creation of Hybrid slaves. While private enterprises fight over resources and power, the first colonists weave together the rich and diverse spiritual and cultural heritages of Old Earth to give meaning to their existence. In this new era of piracy, we will rise from lowly pirate to legendary captain at the helm of massive star-faring vessels, adventuring alongside crews of colorful characters to fight for freedom and the right to determine our own fate among the stars!
So, in a future where limited resources lead to wars between private enterprise, the struggle for survival among evolved species and diverse cultures from "Old Earth" play out among space pirates. You play as a lowly pirate who can become a legendary captain, even playing with others in a "massive, seamless online environment". Sounds a lot like Watch Dogs, which works for me. On the UbiBlog, Michel Ancel the Creative Director acknowledged how much was riding on this:
We know the expectations for Beyond Good and Evil 2 are enormous. We're creating a sci-fi space opera, a game where players fight for freedom alongside unforgettable characters and explore a stunning and vast solar system, all while capturing the spirit of Beyond Good and Evil.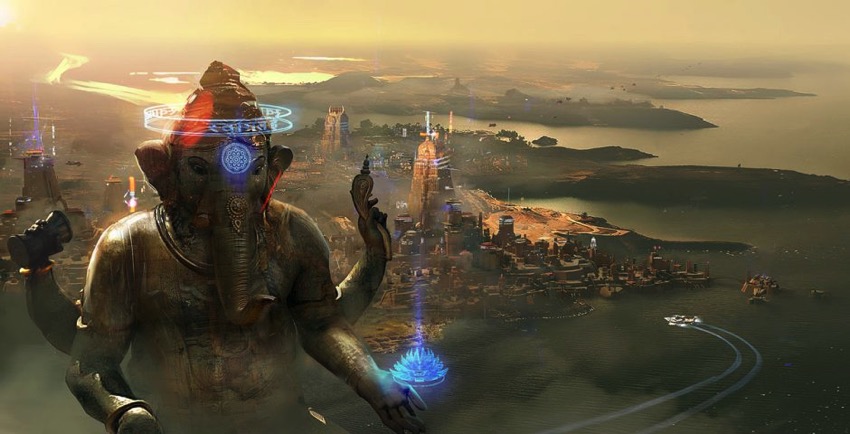 One of those backdrops will be cities. The one we've seen so far is called Ganesha which is described as one of the first cities in System 3 that was actually founded by colonists from the Indian subcontinent and Southeast Asia, which explains why it has that distinct architecture.
We also met a whole bunch of characters, only getting a small taste of who they are on the game's website.

KNOX: "Punk-ass hybrid monkey who is always looking for trouble"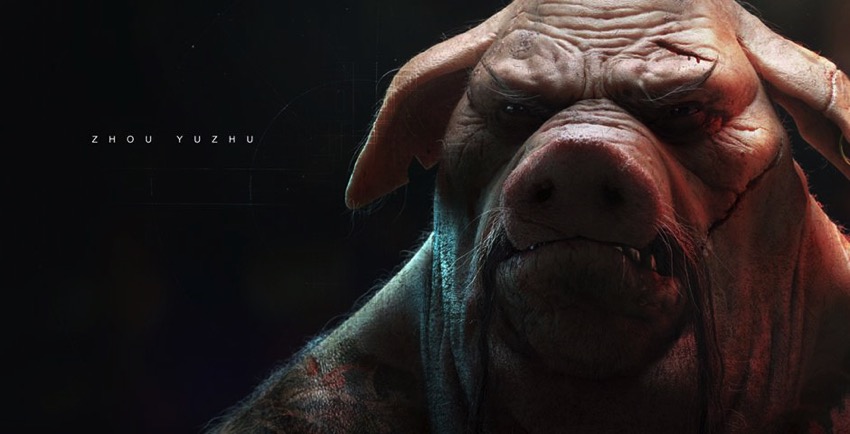 ZHOU YUZHU: "Hybrid pig, pretentious collector and ruthless crime boss"



LI DAIYU: "Rejuvenated madam who runs Zhou's backrooms"



SHANI: "Badass biker and ingenious mechanic of Somalian ancestry"



DAKINI: "Mysterious Captain of the Gada…"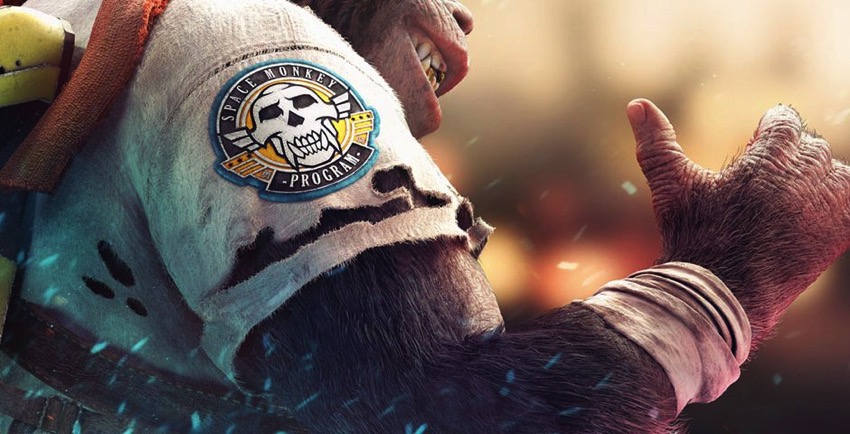 Beyond that, we really don't know much at all. The team is recruiting "Space Monkeys" to:
to crash-test, discuss and inspire everything from character design, to cultural influences, to the flight controls on our massive star-faring vessels… We want you by our side at the earliest stages of development and throughout production to take part in the adventure!

Knox is our inspiration for the program… Like the very first Space Monkeys sent to 'pave the way for man' in the 1950s, Knox is one of the thousands of human-animal hybrids created in corporate labs to serve humans in their conquest of distant solar systems in the 24th century. Now that Knox is a free hybrid (an epic tale for another day…), our fearless space monkey is always up for crash-testing new stuff with his crew – often with hilarious results!
I have been trying to sign up as a Space Monkey all morning, to no avail. I'm not sure if the site just isn't up yet, or if all of us ravenous fans simply keep crashing it. Either way, I will keep trying until I know more.
Other than that, Ancel took to Twitch to chat about the game, and it was thankfully transcribed by PC Gamer. As Ancel has said for years, he's been waiting for the technology to finally catch up with his dream for the game. He didn't want empty planets, but environments with real cities, logical connections between cities and even natural events like gravity and moons. So, just how representative was the CG trailer in terms of gameplay? Well, at least the concept is on track:
"You can get out of the Chinese restaurant, jump into your spaceship, go across the atmosphere, and go into your giant spaceship, and then change the planet," Ancel said. "And all this does no loading, and you can be attacked whenever it's happening. It's like GTA but in space, in three dimensions."
GTA in space, in three dimensions. If that's not a winning pitch, I don't know what is.
For now, that's all we really know about the game, but of course my enthusiasm is abundant and I will keep you up to date with any news that spills out of E3 or future reveals.
Last Updated: June 13, 2017