It's here! It's finally here! Or at least I hope it is. I'm writing this post a couple of hours before the Nintendo NX is hopefully actually officially revealed, at which point I'm banking on a couple of things: That it has a proper name to get the branding engine behind, a fresh look at The Legend of Zelda: Breath of the Wild so that Alessandro will finally shut up and also confirmation that I was totally right about it being rebranded as the Nintendo Duo.
So without any further ado, here's the future of Nintendo home entertainment:
But that's not all! Nintendo has partnered up with a load of developers and companies for the Nintendo Switch. Just read through this list and be amazed: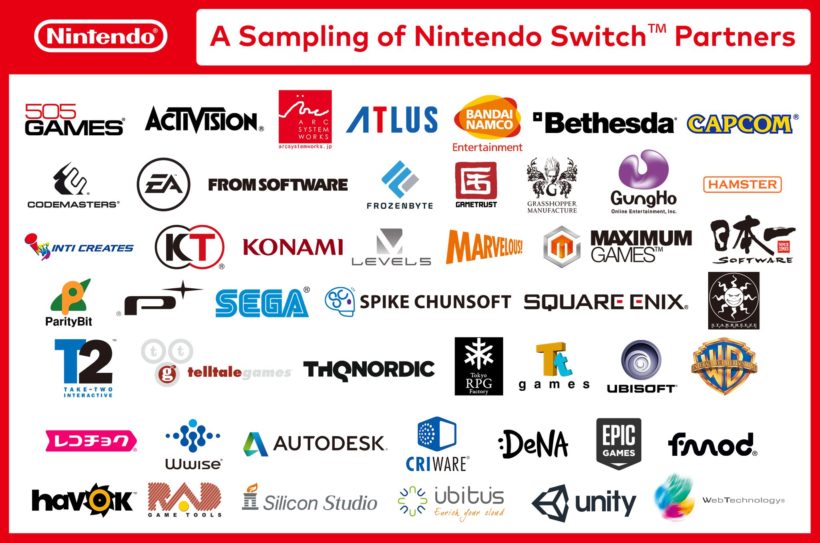 • 505 Games
• LEVEL-5 Inc.
• Activision Publishing, Inc.
• Marvelous Inc.
• ARC SYSTEM WORKS Co., Ltd.
• Maximum Games, LLC
• ATLUS CO., LTD.
• Nippon Ichi Software, Inc.
• Audiokinetic Inc.
• Parity Bit Inc.
• Autodesk, Inc.
• PlatinumGames Inc.
• BANDAI NAMCO Entertainment Inc.
• RAD Game Tools, Inc.
• Bethesda
• RecoChoku Co., Ltd.
• CAPCOM CO., LTD.
• SEGA Games Co., Ltd.
• Codemasters®
• Silicon Studio Corporation
• CRI Middleware Co., Ltd.
• Spike Chunsoft Co., Ltd.
• DeNA Co., Ltd.
• SQUARE ENIX CO., LTD.
• Electronic Arts
• Starbreeze Studios
• Epic Games Inc.
• Take-Two Interactive Software, Inc.
• Firelight Technologies
• Telltale Games
• FromSoftware, Inc.
• THQ Nordic
• Frozenbyte
• Tokyo RPG Factory Co., Ltd.
• GameTrust
• TT Games
• GRASSHOPPER MANUFACTURE INC.
• UBISOFT
• Gungho Online Entertainment, Inc.
• Ubitus Inc.
• HAMSTER Corporation
• Unity Technologies, Inc.
• Havok
• Warner Bros. Interactive Entertainment
• INTI CREATES CO., LTD.
• Web Technology Corp
• KOEI TECMO GAMES CO., LTD.
• Konami Digital Entertainment Co., Ltd.
So what's udner the hood of the Nintendo Switch? Nvidia power, a massive change from the usual Radeon cards that power the current-gen consoles of today. Here's the description from Nvidia themselves:
Nintendo Switch is powered by the performance of the custom Tegra processor. The high-efficiency scalable processor includes an NVIDIA GPU based on the same architecture as the world's top-performing GeForce gaming graphics cards.

The Nintendo Switch's gaming experience is also supported by fully custom software, including a revamped physics engine, new libraries, advanced game tools and libraries. NVIDIA additionally created new gaming APIs to fully harness this performance. The newest API, NVN, was built specifically to bring lightweight, fast gaming to the masses.

Gameplay is further enhanced by hardware-accelerated video playback and custom software for audio effects and rendering.

We've optimized the full suite of hardware and software for gaming and mobile use cases. This includes custom operating system integration with the GPU to increase both performance and efficiency.
And there we go! The future is here! But to be more precise, next year March. So what do you think? Are you ready to splash some cash on what the Big N has planned for 2017?
Last Updated: October 20, 2016