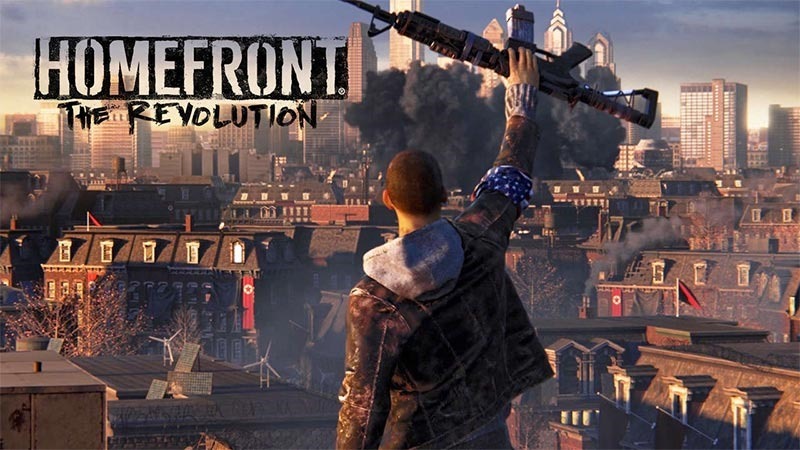 I've been keeping a watchful eye over Homefront: The Revolution. The first game was appalling, but the idea that the continental Unites States could succumb to an invading force is an interesting one. This new game, by Dambuster and publisher Deep Silver is intriguing, showing how a harmless Korean technology corporation used its consumer savvy to gain a slow foothold in the country. Using technology as a Trojan horse, the Korean People's Army invaded the US – and now it's time to fight back.
In The Revolution, you'll play as seemingly boring white dude Ethan Brady as he tries to rescue The resistance's Benjamin Walker; a "man who can inspire the people to rise up." There's 30 hours of Far Cry-ish gameplay for you to engage in as you try to win over the hearts and minds of Philadelphia's populace.
"The battle to free Occupied Philadelphia doesn't just happen in the bombed out streets of the Red Zone, or the high security Yellow Zone – it happens in the hearts and minds of the people!
You have to inspire our countrymen – lead by example, and they'll rise up as one. Together, we can change this world…"
It's out next week – which is very possible a bad, bad time to release a game that people aren't quite as excited about as they are other games, like this week's DOOM and Uncharted 4 – and the week after's release of Overwatch.
Here though, is a proper first look at the story. There are some things I find odd; the generals within the KPA, a Korean invading force, are…white dudes? But hey, at least it's not another game about shooting Arabs, Nazis, Zombies or Russians.
"As raw recruit Ethan Brady, you are plunged into a desperate struggle for freedom as the Resistance try to save the one man who can inspire the people to rise up – Benjamin Walker, the 'Voice of Freedom' himself.

What lengths will the Resistance go to to achieve their goals… and will the end ever justify the means?

Weaving state of the art performance capture into a 30 hour open world single-player campaign, Homefront's dark and brutal story telling will leave you reeling."
Last Updated: May 12, 2016