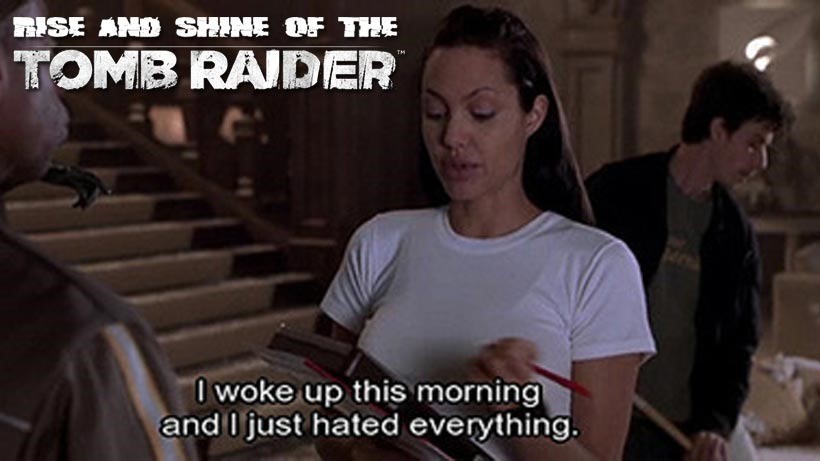 It was a beautiful day, and I'd tumbled down the Lazygamer man-shaft that Matty had set up, in an effort to finally hide the corpses of all our previous interns. I managed to clamber out, but I'' had one hell of a boo-boo and was feeling quite depressed at that point. Geoff appeared all of a sudden, dressed like a butler and covered in blood.
"Do ya know why we fawwll mawster D" he sputtered, while I wondered if his recent concussion had been responsible for the horrific Cockney dialect that he was using lately. "So thet we moight stend up, AND ROISE!" Geoff bellowed, before kicking me back down the shaft. Look, I've got no idea where this story is heading, but it sort of links to Tomb Raider and the latest sequel, Rise of The Tomb Raider.
2013's reboot of Lara Croft didn't need a fancy title. Tomb Raider as a title carries a legacy with it so you know what you're getting. But according to developer Crystal Dynamics, Rise of The Tomb Raider properly sets up Lara Croft in her signature role of an action archaelogist. But that sequel almost had a different name entirely and was for a good while known as Tomb Raider: Ascension.
"We were gravitating toward that for a while," Crystal Dynamics franchise director Rich Brigs said to GamesRadar.

It was a codename for the first game.
Said codename was dropped in favour of a back to basics approach for the 2013 release, but with a sequel on the horizon, Crystal Dynamics wanted to convey a sense of progress. And thus it was decided that with Lara's upward momentum, Rise would be a perfect title. "She has lots of experiences yet to have, and lots of lessons yet to learn," Creative Director Noah Hughes explained, hinting that the sequel will transition Lara from a survivor to an adventurer.
Lara will be "one step much further along that journey of who she ultimately will become," Hughes said.
This promises that meaningful flip in Lara's life where, to oversimply: in the last game tomb raiding was a means to surviving the island. In this game and going forward, survival is a means to raiding tombs.
Keep an eye out in 2027 then, for Laundry Day of the Tomb Raider.
Last Updated: November 6, 2015