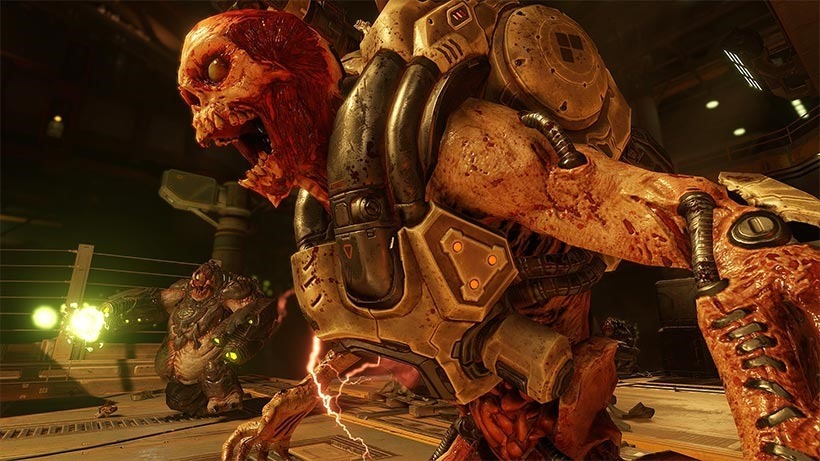 Doom 4 is coming in May – but the deliciously, delightfully brutal, old-school shooter is getting a closed beta this weekend. If you happened to pre-order Wolfenstein, you'll have found the necessary code to ensure your access to the beta within its cover.
The multiplayer beta kicks off tomorrow, March 31 and runs until the end of the week, April 3.
"In the DOOM Multiplayer Beta, fans will have the opportunity to play the brutally fun and challenging shooter weeks before its release. The Beta is expected to feature two maps, Heatwave and Infernal, and two modes, Team Deathmatch and Warpath, along with never-before-seen weapons, armor sets, taunts and hack modules."
Team Deathmatch is exactly what it says on the tin, but Warpath is a little more interesting. It's not too far removed from modes like King-of-the-hill or Annex – except the capture point moves around the map on a determined path. At the opposite end of that is a rune which turns you in to a marine-killing demon, with a caveat; killing things doesn't net you the points you need to win, so you need to make some serious decisions about which objective you're looking to secure.
I'm actually excited about Doom, in a way that I haven't been for a shooter in ages. I think it's because it's such an old-school presentation, built on modern gaming sensibilities. It's the grand return of the fast-paced, twitchy arena shooter, in a world that's been dominated by military shooters for too long.
DOOM is out on May 13. If you won't be playing the beta this weekend, we'll be doing our best to stream it. On top of that, a bunch of influential YouTuber types already have access. Here's a look:

Last Updated: March 30, 2016