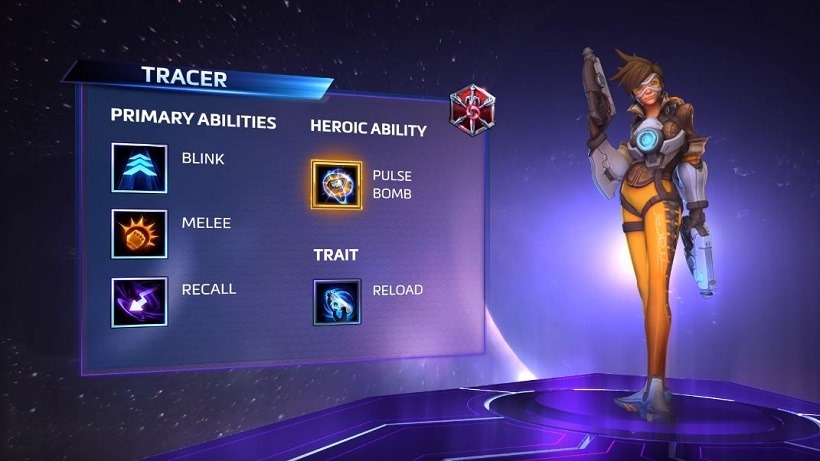 The launch of Overwatch may be over a month away still, but one of its most recognisable characters, Tracer, is already eager to blink her way over to Heroes of the Storm. With her Nexus release being just around the corner, Blizzard have now released a video showcasing her MOBA capabilities.
Tracer's abilities aren't exactly a secret (we've known about them for about a year and a half already), but I've been dying to know how exactly she will work in Heroes of the Storm. Will she be a copy paste of her shooter self essentially? Or will she have new tricks up her sleeve? Her teaser two weeks ago gave some obvious hints, but now at least, we have a proper breakdown of what exactly she can do…
Overwatch – an elite international task force assembled to ensure global peace. The fearless Lena Oxton was chosen as the pilot of their prototype teleporting fighter, 'The Slipstream'. During a test flight, the aircraft malfunctioned, leaving her desynchronised from the flow of time. Thankfully, the brilliant scientist Winston was able to construct a chronal accelerator, granting Tracer the ability to speed up and slow down her own time.

Armed with fantastic new abilities, she has become an irrepressible force for good. The Nexus could always use more heroes, and Tracer has answered the call.
Tracer's role in Heroes of the Storm is almost identical to her Overwatch one. She's very fragile and easy to kill, but she's also ridiculously mobile, and great at picking off enemies.
What really sets her apart from other Heroes of the Storm characters though is the fact that her ultimate is available right from level 1. It will function exactly how it does in Overwatch however – she'll have to dish out some damage and such to charge it up before it can be used.
I really like how Blizzard have augmented her to fit into their MOBA! What about you? Are you eager to give Tracer a go? She'll be all yours tomorrow – if you've pre-ordered Overwatch. Otherwise, you'll have to wait until April 26th, where she then goes on sale for everybody else.
Last Updated: April 18, 2016