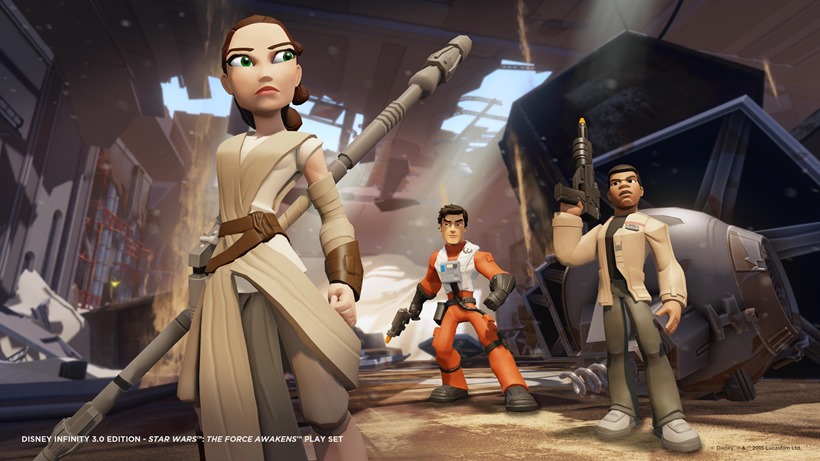 Disney Infinity 3.0 is more than just a single Star Wars film or character this year. It's a collection of eras, spanning several decades, stretching from the final years of the Jedi through to the Empire trying to figure out why their premiums are so high every month after the destruction of the second Death Star.
There's more to it than that however, as a new generation of kids will get to experience Star Wars this year. And they won't even have to worry about having those damn Gungans in their future trilogy.
The first of those three films, The Force Awakens, arrives in December. And it'll be hitting Disney Infinity around the same time as well. Here's what Episode VII looks like on a smaller screen.
According to the press release, the Star Wars Force Awakens play set will be out on December 18 and will feature playable versions of Finn, Rey, Poe Dameron and the new big bad, Kylo Ren.
"When Star Wars: The Force Awakens is introduced December 18, the Disney Infinity Play Set will be the only game where fans of all ages will be able to experience key moments from the film," said Ada Duan, Vice President, Lucasfilm Digital Business & Franchise Management in a press release.
Lucasfilm worked closely with Disney Interactive to develop a fun experience for kids and families who are just getting to know these new Star Wars characters and stories.
Just like the other play sets, The Force Awakens will also allow cross-play with other Star Wars characters. So yes, you can throw lightsaber wielders such as Kanan Jarrus, Darth Vader, Yoda and Ahsoka Tano into the mix against the First Order. Provided that you've collected their character coins of course.
Rise Against the Empire is easily the best playset in the Disney Infinity 3.0 toybox so far, thanks to a tight mix of racing, space combat and better world design. Hopefully The Force Awakens lives up to that benchmark.
Last Updated: October 12, 2015