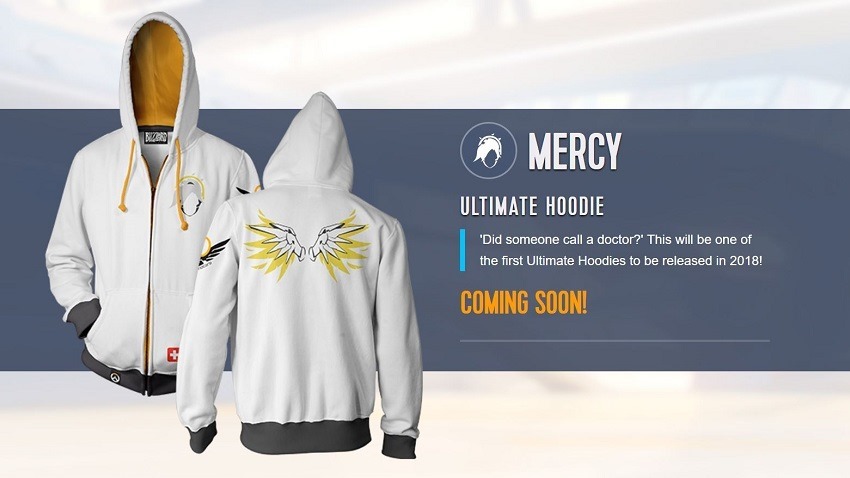 Overwatch is a game rife with a strong merchandise base, and thank goodness for that. Collectibles, t-shirts, plushies and more are ready and waiting for your money, letting you express your love for Blizzard's shooter in nearly every way possible. But nothing shouts that loud and clear like a suitably busy hoodie for you to champion your favourite main with. And Jinx is happy to oblige, and so are adding a whole bunch more to their existing line.
Jinx already has a hoodie line for a couple of Overwatch characters, including D.Va, Genji, Lucio and Reinhardt. They scale from the ridiculously over the top (having a massive "Nerf This" on the back, for example), to the suitably reserved with Reinhardt's gorgeous emblem or Lucio's eye-catching green frog. It's a great range of apparel for you super fans out there, and today the range is getting larger for 2018.
Added to the range are hoodies for Mercy, Junkrat and Soldier 76. Mercy is particularly great, giving your the wings of resurrection on your own back and a really nicely rounded colour scheme. Soldier 76 isn't to my own liking (blue and orange just don't work), and Junkrat's is as busy as D.Va and Roadhog. Of course, your own taste mileage may vary.
They're all up for pre-order, and should run the same $60 as the existing range. Of course getting them to local shores is a little harder, but that's nothing new if you've become accustomed to importing all your favourite gaming merchandise that isn't readily available.
Last Updated: November 22, 2017