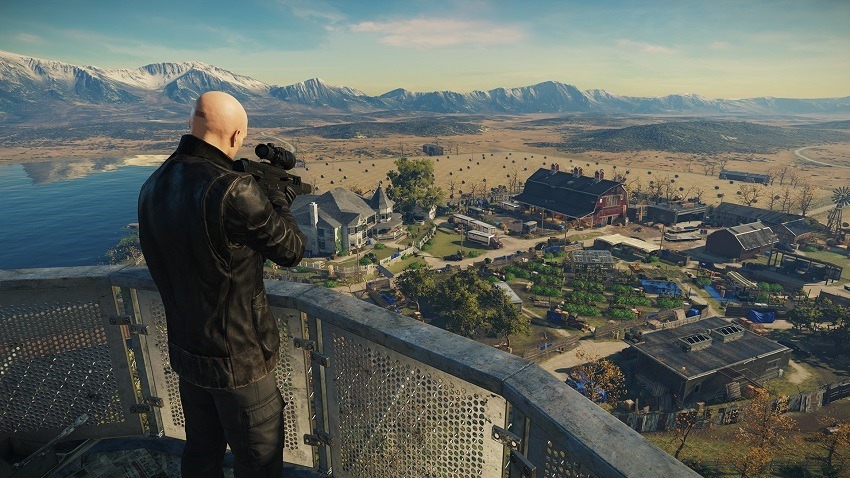 Back in June you could get an early taste of Hitman 2 in the form of Sniper Assassin– a well designed distraction that puts you in the shoes of Agent 47 and in command of his trusty sniper rifle. Sniper Assassin is easy to understand – you're on a rooftop far from your target, and you have no way to move around. So using only well-timed shots and misdirection, you need to assassinate the targets at hand before the time runs out. The pre-order incentive was just that, an incentive. But IO Interactive are not letting this great idea rest at that.
Instead, Sniper Assassin is getting expanded on in Hitman 2 next month, with all new maps and challenges for you to take on alone or co-operatively with another agent. Speaking to PCGamesN, Travis Barbour, community manager at Io Interactive, explained that the team at IO wanted to explore more ways to play as Agent 47. And with the confined ruleset of Sniper Assassin, the team could explore more puzzle creation and interesting scenarios to test players with.
This rounds out Hitman 2 in a neat way, with competitive multiplayer for the assassination focused stealth game announce earlier today. Players will be able to tackle the main campaign alone, jump online for furious, rushed runs against other opponents or settle in for more puzzle-centric challenges with a friend in Sniper Assassin. And all this content will be made available on the day or launch, with more planned in the future.
As Barbour describes,
"We use the analogy of having a buffet: we have the single-player campaign, we have the online co-op missions, and now we have a competitive multiplayer mode as well. So we're providing lots of different ways to play Hitman."
Hitman 2 is out next month on November 11th, and is coming to Xbox One, PS4 and PC.
Last Updated: October 12, 2018