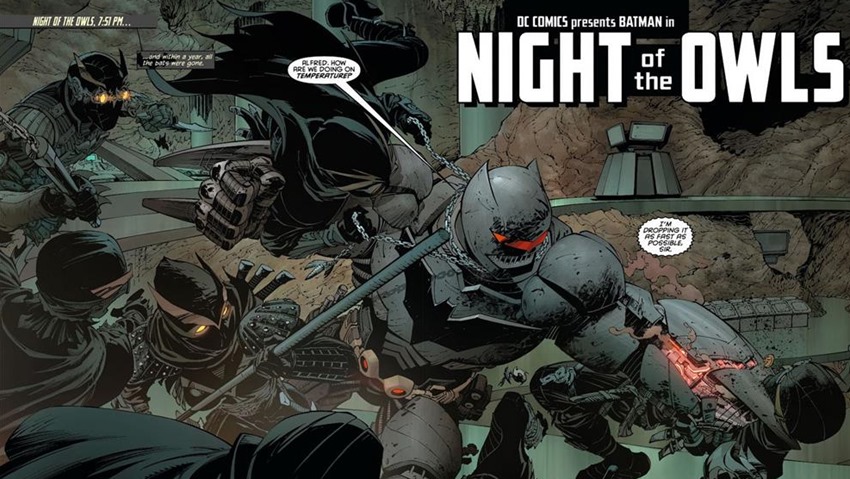 Bat-rumour engines to maximum, Boy Wonder! We're well overdue a solo Batman game, and while it looks like Rocksteady Games aren't in a hurry to return to Gotham City, that doesn't mean that a different studio is ready to take a crack at the caped crusader. Heck, the studio behind the best Arkham game, Warner Bros. Montreal, might be the team that is ready to crank out a new dark knight simulator.
Also yes, Arkham Origins is my favourite Batman game, don't fight me on this one. Anyway, here's how the rumour mill is currently spinning. Warner Bros. Montreal assistant producer Valerie Vezina recently tweeted out the following message, but look closely at her T-shirt and you might spot a familiar symbol:
[Redacted], best. DevTeam. EVAR. pic.twitter.com/fUV8WCkDnI

— Double V (@valvez) November 16, 2018
Whooooo does that symbol belong to? None other than the Court of Owls, a shadowy cabal of Gotham's upper-class elite who run the city from behind a shadow of secrecy and keep the anonymity intact with the use of their brutal enforcers, the Talons. Introduced in the first arc of Batman following the New 52 relaunch, the Court of Owls is a deadly collective of master manipulators, while the Talons are essentially immortal assassins who can give Batman a run for his money.
So, plausible rumour with a Game Awards reveal this week? Not exactly, as Creative director Patrick Redding quickly doused those flames and confirmed that Warner Bros. Montreal's latest won't be bat-present at the Game Awards:
… We're not doing the glamorous part of the job just yet. We're headed down to meet with our WB partners and showcase the team's hard work and share our excitement. I know how anxious the fans are to hear something… Please be patient! (2/2)

— Patrick Redding (@Holesinteeth) December 2, 2018
Anyway, I'm game for that. The Court of Owls are still a fairly new addition to the Batman rogues gallery, but they've made a hell of an impact in the years since they debuted. They're sinister, they're a dark mirror of who Batman could have been and they provide a perfect counter to Batman's solo war on crime. Also, I'm always up for any game that has the merest possibility of allowing you to bludgeon the rich.
Last Updated: December 5, 2018