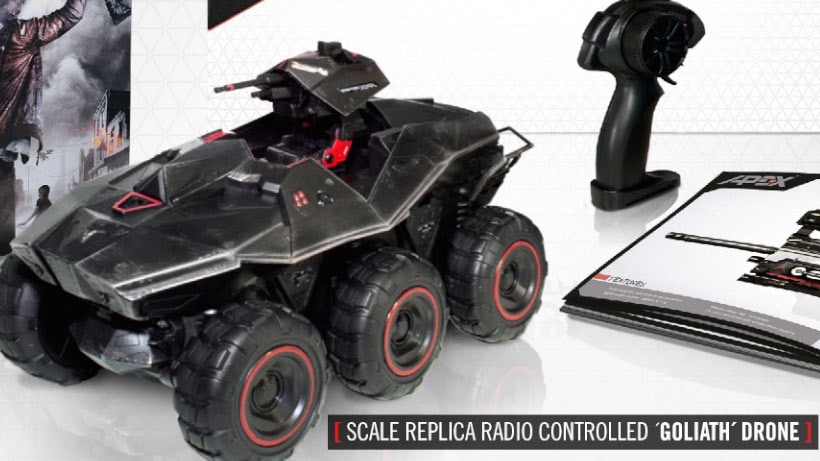 Even though it has absolutely zero Jason Statham or James Franco in it, Homefront: The Revolution is shaping up to be alright game. Maybe not the best game to ever feature guns, communists and overt Red Dawn references, but a good game all the same that will most likely find an audience when it releases in May.
Here's one more incentive for those people who feel like ditching Uncharted 4, Doom and Mirror's Edge for the fight to free AMERICA: A collector's edition that has a radio-controlled scale replica of the Goliath drone found in Homefront: The Revolution. Deep Silver has announced the special edition, which will come with the following goodies (Click to embiggen):
Exclusive collector's Steelbook
A 32-page art book featuring Resistance-themed concept art and cutting-edge Apex technology
The Revolutionary Spirit pack, including The Red Skull motorbike skin, a Golden skin for your pistol, and instant unlocks of the Marksman Rifle, Sniper Scope, and Remote Explosives for your co-op character in Resistance Mode.
The Homefront: The Revolution Expansion Pass, entitling access to major single player expansions– further information to be revealed at a later date.
Goliath drone remote control car, features six wheels and working lights
Not bad, and certainly better than one of the dozen cheap plastic statues I currently have littering my shelf from previous special editions of other games. Homefront: The Revolution will be home to more than just a single-player game however, as developer Dambuster Studios plans to support the title with a year's worth of free DLC in Resistance mode.
In addition to that, Game director Hasit Zala estimates that core single-player experience will take around 30 hours to complete. We're planning for a dedicated team to work on additional single-player content for at least a year after release," Zala said in a statement.
We have some exciting ideas that we hope to develop further post launch, but the overall goal is to add some surprising new experiences to the world of Homefront that complement our 30-hour single-player campaign.
At the time of writing, official prices for the Goliath Edition were not revealed. I checked Raru, but even they're not leaking it…yet.
Last Updated: March 2, 2016