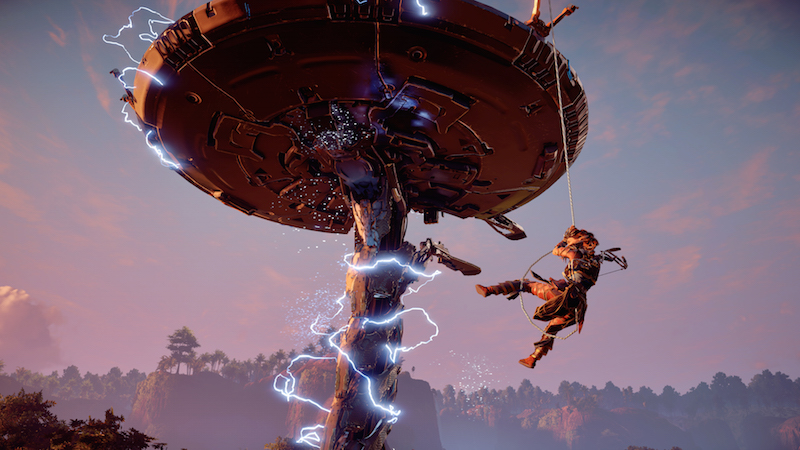 I have decided to take new meaning to the term "going gold". It used to mean that the discs were pressed and the game was complete. Now we know that developers will continue to work on their games even after launch, producing day one patches and continual patches in the months that follow. I've decided that I'm okay with that – going gold doesn't mean what it used to. What it does mean, though, is that the game won't be seeing any more delays, that it really is pretty much done and will launch on the date we've been told. So yay – at the end of the month, Horizon Zero Dawn will be available for us to play.
But wait, there is much more good news. First of all, thanks to a recent preview event we have even more cool info about the game. This includes the fact that camp fires need to be discovered but then serve as save and fast travel points, as well as further details about the skills trees that will allow people to make Aloy into a stealthy killer or a tank. Here is 20 minutes of open world gameplay for those who want to watch more:
With the game launching so soon, it's time to decide which version of the game you'll be getting. I love a good Collector's Edition, and thanks to my years spent studying in The Netherlands, I also have a soft spot for a Dutch accent. That's why this video unboxing of the Horizon Zero Dawn Collector's Edition makes me so happy:
Hot damn that is a gorgeous looking Collector's Edition. The steel book (with the game, in case you were wondering based on recent trends), art book and statue are all so lovingly made. I really shouldn't have watched this video – I want this now!
Our wait is almost over. I am so glad that February is such a short month simply because it means that Horizon Zero Dawn is almost upon us. Are you going to be grabbing this at launch, or are your eyes (and wallets) set on one of the other fantastic games launching during the same window?
Last Updated: February 1, 2017