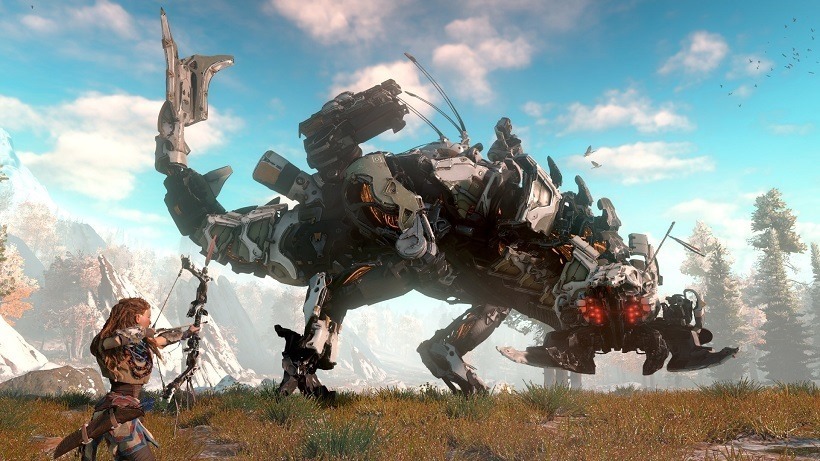 Horizon: Zero Dawn was one of the best reveals at E3 last year, but since then Sony and Guerrilla Games have remained rather silent over the open-world, robot wildlife hunting simulator. The game looked absolutely gorgeous during its first showing, which has only fuelled recent rumours around a more powerful PS4 being released really soon. And if a recent rumour is to be trusted, a lot of those pieces seem to be falling into place.
The PS NEO (or PS4K or PS4.5 or whatever you want to call it) is supposedly coming out either near the end of the year, or early next year. It stands to reason then that a game so graphically heavy like Horizon: Zero Dawn would do well as a sort of launch title (which shouldn't make a difference to regular PS4 owners, remember). Industry insider Shinobi602 seems to think so, and his sources are telling him that Zero Dawn has already been pushed to 2017.
Well…Horizon: Zero Dawn's getting delayed to early 2017 from what I'm told.

Going to look splendid on PS4k though.

— shinobi602 (@shinobi602) 20 April 2016
Shinobi602 has been on the money many, many times in the past, and was even one of the first people to share some of the themes that Horizon would eventually reveal at E3 last year. It's still standing as a rumour until Sony themselves confirm the news – which I suspect will only be at E3 this year- but it's not all too removed from the realm of reality. Games get delayed all the time, especially ones that haven't had much revealed about them in such close proximity to their suspected launch window.
Who knows though, Sony could very well announce bot Horizon: Zero Dawn and the new PlayStation for 2016 at the massive conference in a few weeks time. But as far as history goes, I'd be more comfortable betting against that. Check out some gameplay from the conference last year below.
Last Updated: April 21, 2016