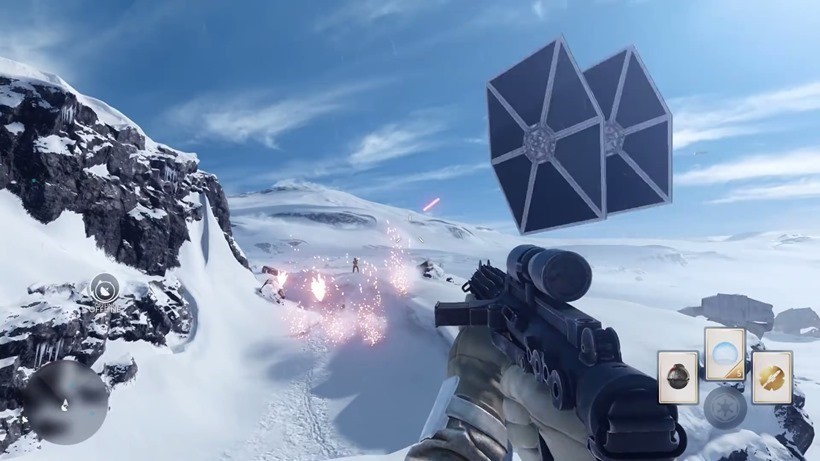 Back when I got my hands-on Star Wars Battlefront at E3, the one thing that stuck with me was just how close to the real thing the online shooter looked. Aside from looking technically gorgeous, Battlefront had all the trademark Star Wars nostalgic beats to it – from the incredible sounding blasters to the death screams of fallen Stormtroopers. It made me feel like I was in one of the films, and that's no different with a longer look at some gameplay.
Slipping out of the technical Alpha that is taking place before next month's beta, here's a whole ten minutes of Rebels and Stormtroopers being a little more accurate in a Walker Assault battle on the icy planet of Hoth. Walker Assault was one of the first modes revealed for the shooter – where Rebels attempt to stop the hulking AT-AT from reaching the rebel base shield generators and blowing them to pieces. You know, like in the real battle of Hoth. See what I mean?
Curiously this particular player kept things completely third-person for all of their match time. Battlefront allows you to switch between perspectives on the fly, with most weapons not even featuring an iron sights mode (weapons with scopes will allow you to use them however). It's a homage to the Battlefront games of old, while still providing a perspective that is familiar to most online shooter fans at the same time.
Third-person also helps with class specialties like the very Boba Fett jetpack and aiming barrages over an area, which both look more fun than useful in most situations. Again, Walker Assault is only one of many modes that the primarily competitive focused shooter will launch with on an array of different planets, and I'm quite excited to just hop back in again. Star Wars Battlefront is out on November 24th.
Last Updated: September 14, 2015