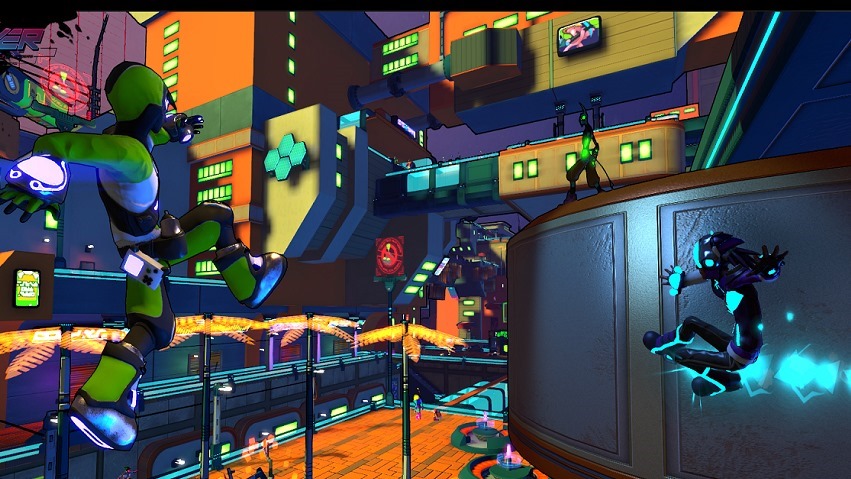 Jet Set Radio Future holds a special place in my heart, if only because it was one of my very limited original Xbox library. Looking back at it now, it's not hard to see how clever it was with its depiction of monolithic corporations and their oppression on the public, combated by a gang of punk skate kids who just love to graffiti. There aren't many games you can slap that description on, but Hover: Revolt of Gamers is here to change that.
Fusty Games, birthed in the heart of France, are making rollerblading relevant again with a massive dose of neon flair. Hover: Revolt of Gamers is a little heavy handed with its own lore – you live in a  world where videogames have been banned and you're, uh, revolting – but mechanically it's an ode to Jet Set of the past. You skate and parkour your way though massive open spaces, tagging government propaganda and helping out civilians along the way. There's even a full 9 characters to choose from, but sadly no underground DJ infecting you ears with some stellar beats.
The soundtrack is still a big part of the experience though, and Jet Set Radio composer Hideki Naganuma produced 17 original beats for the title. Hover seems to, however, want to focus more on the more multiplayer aspects of the game. You'll be able to hook up with other players online, create custom events and participate in races, capture the flag and more. It pulls away from the pseudo-serious nature of the game it's so inspired from, but it looks fun regardless.
Hover: Revolt of Gamers is out now on Steam, and will set you back just $20.
Last Updated: June 5, 2017