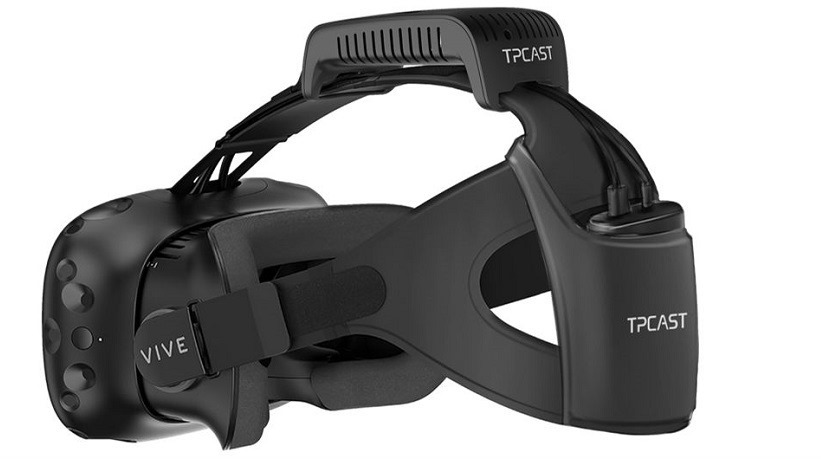 Virtual Reality is very real, but so are its very messy, cumbersome setups. Right now room-scale VR, which is mostly done best with the HTC Vive, suffers from this immensely. There's nothing worse than tripping over a cable while you're deflecting blaster shots in Star Wars, never mind it being incredibly dangerous. HTC doesn't have their own solution yet, but they're endorsing a new product that has already solved that problem.
HTC have announced a new wireless add-on that can connect to their Vive headset and deliver cable-free VR, just months after the headset launched. The device is made by TPCAST, one of the companies invested in HTCs Vive X Accelerator program. Their kit is able to sync with a PC without any direct connection, and uses a small dongle on top of the headset to beam information between the two. A lot less fuss, and much fewer cables.
There are two questions though: How does it deal with latency and battery life? Right now there are answers to both, but without actually being in the hands of consumers there's nothing too concrete. TPCAST assures buyers that there is no discernable difference in latency, while HTC backs them up on that. Battery life, however, is a little disappointing. The device is only able to hold a charge for just over an hour, but TPCAST is working on a pack you can use while in your pocket.
It's early days for this type of technology, but it's a much quicker turnover time than I was actually expecting. VR is still in its infancy in many regards, but seeing companies already improve on some of its most glaring issues so quickly makes reaffirms my faith in its market viability. People want to experience VR – and the fewer boundaries there are to it the better it will grow.
If you've managed to import a Vive, you can pre-order the add-on starting today.
Last Updated: November 11, 2016