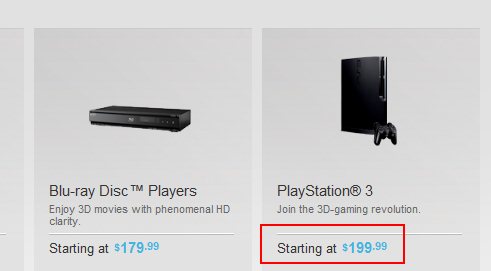 Sony has recently launched a brand new website to show off it's upcoming 3D capabilities but there is something far more interesting available on the site.
If you head on over to their Lifestyle site and browse right down to the bottom you will see the advert for the Playstation 3 starting at $199.99… which would be a full $100 price drop from what the Slim is currently selling for and could well be a winning blow in this years E3 wars.
It could well be a typo but let's hope not, a $100 price drop would seriously shake things up and would force both Microsoft and Nintendo to drastically slash their prices to stay even remotely competitive.
[Thanks to Scot for the tip]
Last Updated: June 10, 2010