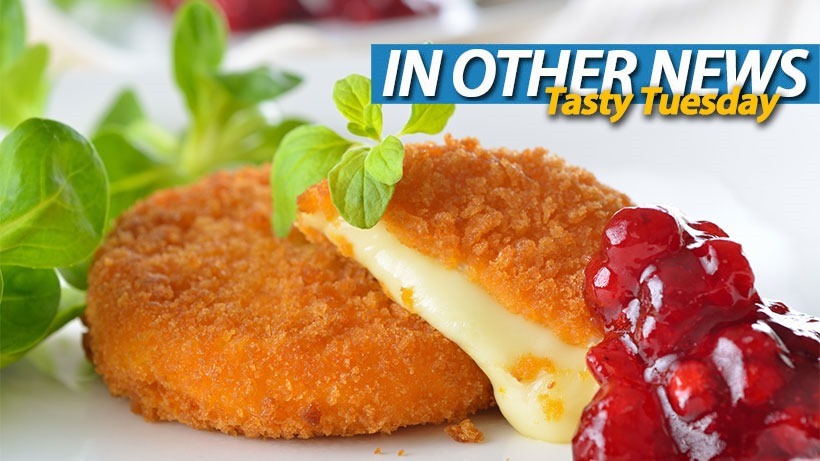 Yesterday in my absence, the team fought over cheese. That's fair enough. Cheese is love, cheese is life – and it's totally worth fighting over. The biggest problem was the cheese they were arguing about, pitting Cheddar against Gouda. That's not even a fight; while a proper Dutch Gouda (not the sickly, sweet orange stuff you get at your local supermarket) is delicious, it pales compared to a sharp and strong cheddar. They're both pedestrian though; at least fight about gruyere or something.
Or fight about one of my favourite things to eat. It's a holdover from 70's restaurant cuisine, like the Avocado Ritz and Crepes Suzette, but there's something magical about an ooey, gooey deep-fried (or crumbed and baked if you prefer) Camembert. Soft and pungent, with a crispy breading and inevitably served with something tart like cranberry, it's the stuff dreams are made of. If you're feeling especially decadent, you can even cover a rump steak with a wheel of camembert, like the excellent hunk-of-cheese on-top-of-a-steak Thundergun does – just ignore your arteries screaming afterwards.
In Other News: FIFA's Ultimate team goes through some chchchanges, League of Legends celeb is full of hate speech, get shiny dual shocks and King of Fighters XIV looks like PS2 game.
Here's the news we didn't post because because we were too busy constructing a rocket to fire Alessandro (who hates cheese) in to the sun.
News
Destiny: The Taken King goes live with small update
FIFA Ultimate Team undergoes changes for FIFA 16
Gold and Silver Dual Shock 4 variations coming west
League of Legends YouTuber gets banned for hate speech
1979 Revolution is a game about the Iranian Revolution
Flight Control and Dead Space among 23 mobile games killed by EA
King of Fighters XIV coming to Japan in January
Nvidia questions the wisdom of an Apple TV purchase
Stuff
Look at this Metal Gear Solid action figure
Can the new Apple TV succeed as a games machine?
Upcoming Dragon Ball Z fan movie looks like a Pixar film
Alexis Kennedy on: The Labyrinth
Videos
WWE 2K16 – Dude Love entrance
Killing Floor 2.0 – Incinerate and detonate trailer
Street Fighter V – Rashid trailer
What's on at The Movies
Sebastian Stan talks CAPTAIN AMERICA: CIVIL WAR – The most brutal fights yet
Disney developing MARY POPPINS sequel, Rob Marshall to direct
Director Denis Villeneuve says BLADE RUNNER 2 will take care of the "mystery" of Deckard
SPECTRE may be longest Bond movie yet! Plus, new TV spot, posters and banner
Nobody knows where this trailer for CREED has been!
Cinophile: BUBBA HO-TEP
Last Updated: September 15, 2015