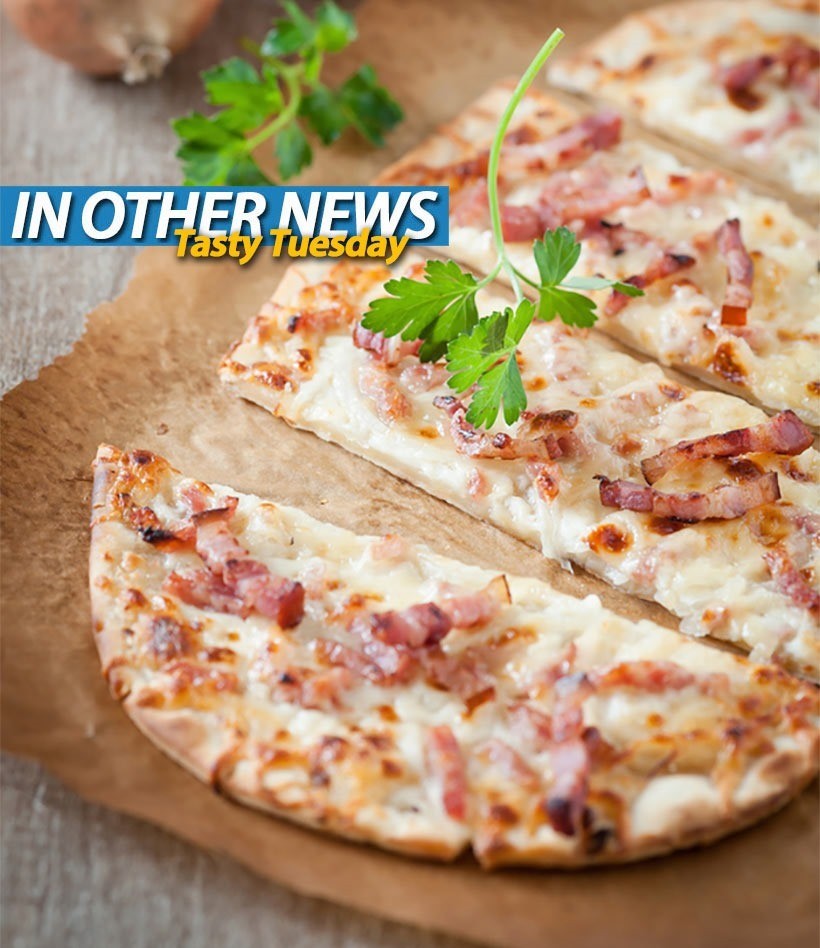 It was around a year ago that the Tasty Tuesday was around Pizza, one of life's greatest gifts – and one of my very favourite foods. Sometimes though, you want something simpler, lighter – a little fresher, a little more French.
Here then is the Flammekueche – a thin-crust flatbread that hails from Alsace, a region in the North of France along the Rhine and just a stone's throw from Germany. The region has shifted between French and German control for centuries, so it's got a culture influenced by both. Quite possibly its most famous food is the Flammekueche (Flammkuchen in German, and Tarte Flambe in the rest of France) and it's a genuinely delightful thing; a thin crust, spread with a layer of Crème fraiche- and then almost always covered in lardons (French bacon), onions and scallions. It's lighter and crispier than pizza – but just as moreish. I've had a pretty decent one at the Neighbourgoods Market in Braamfontein – but the caveat here is that if you do venture there, you're bound to run in to an army of hipsters.
In Other News – No boob slider in your JRPG, Nintendo's ninjas battle pirates, carrying stuff in Fallout is haaaard and you can now remap your Xbox One controller.
News
Silent Hills actor has faith Kojima and del Toro will work on "something"
Microsoft adds button remapping support for Xbox One standard wireless controller
Sony investigating Star Wars Battlefront problems on PSN
Western Xenoblade Chronicles X does away with boob size adjustment slider
I hope Disgaea on Steam is a sign of things to come
Pillars of Eternity: The White March Part Two is coming in January
Nintendo successfully fends off another patent case against Wii U and 3DS
Path of Exile 2.1.0 update to add new leagues and items next month
Stuff
Virtual Mt Everest will let anyone climb it
Why I'm tired of Fallout 4 encumbrance
Civilization saved this couple's money
Exploring the peculiar magic of screenshots
Videos
Rodea: The Sky Solider- Launch Trailer
Game of Thrones Video Game – Season Finale Trailer
The Legend of Zelda Twilight Princess HD Trailer (Wii U)
What's on at The Movies
PROMETHEUS 2 officially titled ALIEN: COVENANT; first synopsis revealed!
My mind is too strong for this trailer for MOONWALKERS
Check out the trailer for JHB based superhero show JONGO
Michael Douglas looks set to return in ANT MAN 2
Header: Shutterstock
Last Updated: November 17, 2015