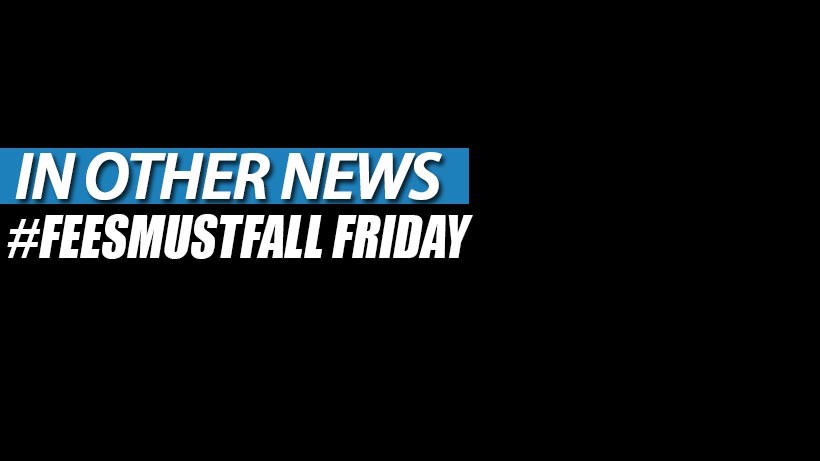 I'm so freakin' proud of you guys. It's been a crappy week to be a student. What with the universities wanting to increase fees further, and pretty much keep education out of the hands of a great many people. But you've all stood up. You've marched, you've protested and done so peacefully.
And really, that's admirable. You're not marching for something trivial. You're marching for a future for yourselves and everyone else. And the fact that you're doing this as a united front across all barriers, just makes my heart soar.
And we're with you, in spirit at least, when it comes to #FeesMustFall. Keep the spirit alive, we're with you. You're making history right now. I'm sorry that it was appropriated. I'm sorry that politics ruined it.
In Other News: Just Cause 3 is golden, the Witcher rebalances, no season passes for old-gen and ten days of Subterfuge
Here's the news that we didn't post today, because you guys were making the real headlines.
News
Vivendi buys even more Ubisoft shares
No Season Pass for Call of Duty Black Ops 3 on Xbox 360
PlayStation Store finally gets wishlist feature, but it's very limited
All the Fallout games on sale on Steam again this weekend
PlayStation is not developing any first-party Vita games
Just Cause 3 has gone gold
Sega might be working on new Valkyria Chronicles game
The Witcher 3 patch rebalances DLC boss battles and more
Stuff
Mario Maker? No, this is Zelda Maker
Performance Analysis: Assassin's Creed Syndicate
Kingdoms strips strategy games to the bone
Ten days of Subterfuge
Videos
Assassin's Creed Syndicate – Gangs 101 trailer
Warhammer: End Times – Vermintide – Release trailer
Samurai Warriors 4: Empires – Debut trailer
What's on at The Movies
This trailer for PRIDE AND PREJUDICE AND ZOMBIES is trained for battle, not the kitchen
Watch the pilot episode for THE MAN IN THE HIGH CASTLE here for free!
We have ourselves a good ol' fashioned dad-off in this new trailer for DADDY'S HOME!
Movies out Today: 23 October 2015
Director Zack Snyder talks about the Dark Knight in BATMAN V SUPERMAN
The first reviews for SPECTRE are in!
Bruce Willis thinks that DIE HARD: YEAR ONE is "a very good idea"
Image: MARCO LONGARI/AGENCE FRANCE-PRESSE/GETTY IMAGES
Last Updated: October 23, 2015