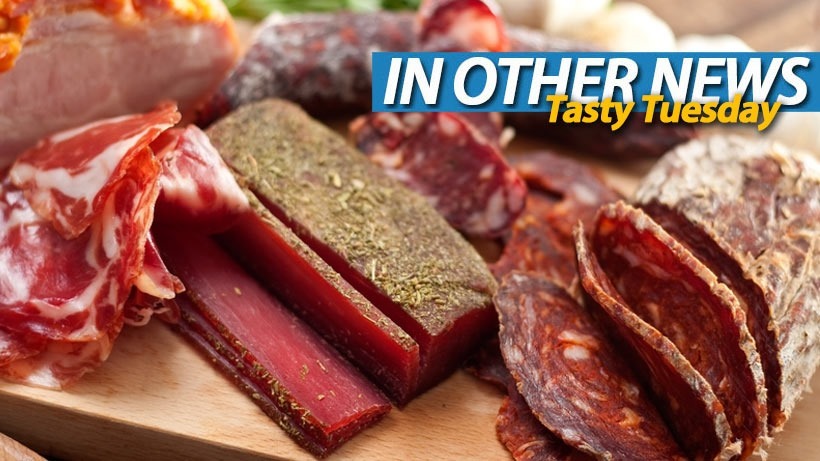 Dried, cured, processed meats. Yes, including stuff like biltong, bacon, sausages and salamis. They're all under fire because according to scaremongering, sensationalist headlines they're the sort of things that'll significantly increase your risk of bowel cancer. Here's the thing. I love this stuff. I go crazy for a good cured ham; a bit of Jamon Iberico, or a slice of prosciutto. I'd happily devour a bit of coppa, or a nice salami A bit of bresaola, a bag of biltong? Yum. Only, it's probably not all that good for you, they say. Is that going to stop me from eating the stuff in moderation? Nope.
In other news: Bomberman returns, it's 2Dark for a horror game and Sega's sorry that Sonic's a boob.
Here's the news we didn't post because you're looking pretty char-cute-erie this evening.
News
Destiny weekly reset for October 27 – Court of Oryx, Nightfall, Prison of Elders changes detailed
Final Fantasy characters to invade Puzzle & Dragons
Alone in the Dark creator reveals stealth horror game 2Dark
Burnout Paradise will be compatible with Xbox One
Konami is making a new Bomberman
Chun-Li graces Mad Catz' first Street Fighter V stick
Sega apologises for calling a Sonic character 'Boob'
Stuff
GTA V Hulk mod is better than actual Hulk games
What works and what doesn't in Halo 5: Guardians
The Witcher 3 mission that went straight to hell
Performance Analysis: Assassin's Creed Syndicate
Videos
Just Cause 3 – Story trailer
Call of Duty Black Ops 3 – Launch gameplay trailer
Hellblade – The face of Senua: Developer diary
What's on at The Movies
Jerry Bruckheimer is producing a teen girl version of Taken in THE CRUELTY
And the WINNERS for our STER KINEKOR HORROR DVD HAMPER competition are…
C'mon! Watch the opening 4-minutes of ASH VS EVIL DEAD!
Check out Marvel's epic Phase Two Collection box-set
Jared Leto reveals full Joker costume and finally talks about the character
Cinophile: The Top 10 So Far
A JUMANJI remake on track for a Christmas 2016 release
Last Updated: October 27, 2015