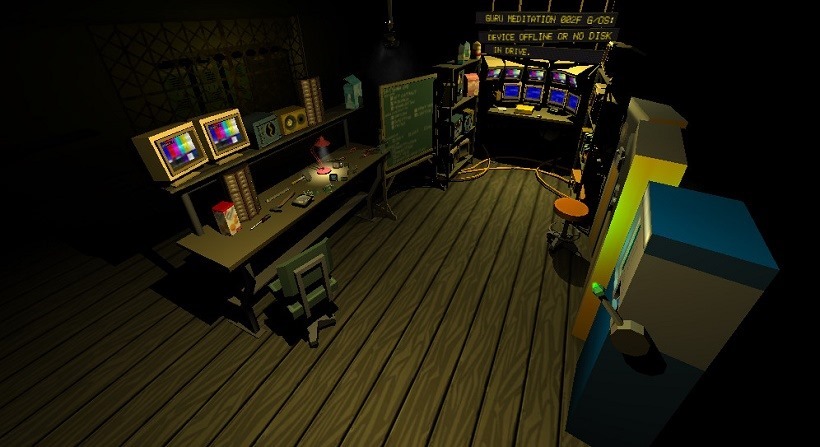 Quadrilateral? Now that's a term I haven't heard in a long time – not since my high school days, when mathematics was all the rage, and when it would be "really important" for life. Ha! I'm writing about games for a living now Mrs Teacher, YOUR MATHS HAS NO POWER HERE!
Sorry, I got a bit carried away there. Now where was I? Ah yes, Quadrilateral Cowboy – a game I've literally not heard about until today.
According to Gameinformer, Quadrilateral Cowboy impressed many people at the IndieCade Festival back in 2013. It was due out in the same year, but thanks to numerous delays, it's only ready to ship this month. It'll be out soon as a matter of fact, on July 25th (September for Mac and Linux).
So what's the game all about? I don't know much in the way of synopsis, but I can tell you that it's essentially a programming puzzler. What does that mean exactly? I'll let the original trailer do the talking…
Hacking. Dial tone. Cassette decks. Sabotage. Suitcase decks. Brainbox injectors.

Quadrilateral Cowboy is a single-player adventure in a cyberpunk world. Tread lightly through security systems with your hacking deck and grey-market equipment. With top-of-the-line hardware like this, it means just one thing: you answer only to the highest bidder.
Being somebody who studied programming straight out of high school, and somebody who hated it with every fibre of his being, I can honestly say that Quadrilateral Cowboy doesn't appeal to me at all, not one bit. That being said, it does look rather intriguing, and I can see why people who love coding, or those interested in getting into it, would play this game.
If you consider yourself one of them, you can grab Quadrilateral Cowboy on Steam later this month for just $19.99 (local pricing is unavailable at the moment). If you'd like to splurge a little, the deluxe edition, which comes with an interactive art book, costs just $10 more.
Last Updated: July 12, 2016