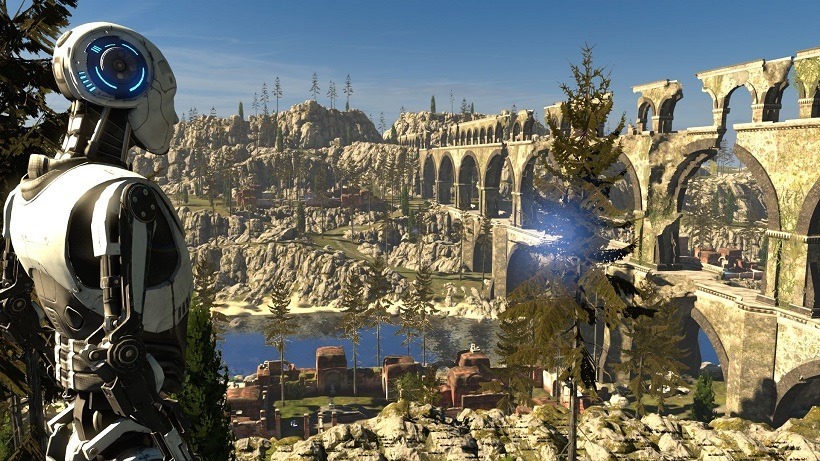 If you like games like Portal, it's probably a good assumption that you've played (or at least heard of) The Talos Principle. Developed by the guys over at Croteam (best known for Serious Sam), the first-person puzzler garnered critical acclaim when it launched in December 2014, and even more praise for its expansion the year after. It's aiming to recreate that too now, with an official sequel on the way.
The announcement was sort of made during the Nordic Game expo over the weekend, although the exact timeline of events is a little confusing. One attendee at the panel threw up the announcement on Twitter, after the sequel was apparently obviously hinted to during the presentation. That alone is nowhere near enough to proof, but soon after the tweet was retweeted by Croteam's official account. Why retweet an announcement if it's not true, right?
Yes, "Talos Principle 2 is going to happen" confirmed by @AlenL @Croteam on stage @NordicGame 2016! pic.twitter.com/lAMXaMJk4s

— Damir ?urovi? (@DamirDurovic) 20 May 2016
Well publisher Devolver Digital has yet to mention anything, but it seems pretty set in stone that a sequel is at least in the works. And rightly so. The Talos Principle is a gem of a game, that not only challenges you on a logical level but an emotional one too. Throughout its complex campaign, the game forces you to question things like your own existence, and our place in the universe as a whole. You know, casual thoughts you have on a Monday while sipping your coffee.
Aside from this sequel, Croteam is also working on Serious Sam 4, which was announced quite a while back already. It is nice to see two very different games coming from the same studio, and shows that Croteam has a lot more to offer off in the future. And if you haven't yet played The Talos Principle be sure to add it to your backlog during the next Steam/ PSN sale. Trust me.
Last Updated: May 23, 2016