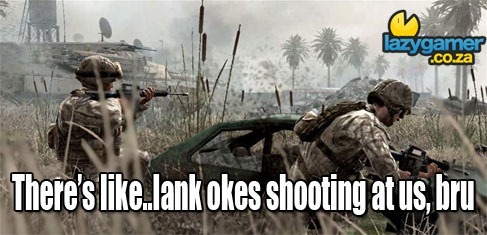 So apparently Infinity Wards doesn't have a clue what they will be working on after they have completed Modern Warfare 2.
For all they know they could be contracted to create the next Cooking Mama titles or roped into making a Halo offshoot for the iPhone…
However I am going to have to call bull sh!t on this one, we all know what they are going to be working on after MW2, they are going to start working on MW3. They have developed a monster and there is no way that anyone in power is going to let them wander off to do anything else apart from create the next killer title in the Modern Warfare franchise.
According to the official statement from Robert Bowling
"Right now we don't have a clue what our next game is going to be, and we won't know what it will be until we finish with Modern Warfare 2, which won't be for a while . . ."
Granted the next thing they are going to work on is DLC and bug fixing on the title but I would be personally horrified if they didn't already have a draft document stating where the next game will be based.
I personally would love to see it based in central Tokyo or Hong Kong… or somewhere else equally populated with civilians everywhere for us to accidently take out.
Source: Bigdownload
Last Updated: October 22, 2009