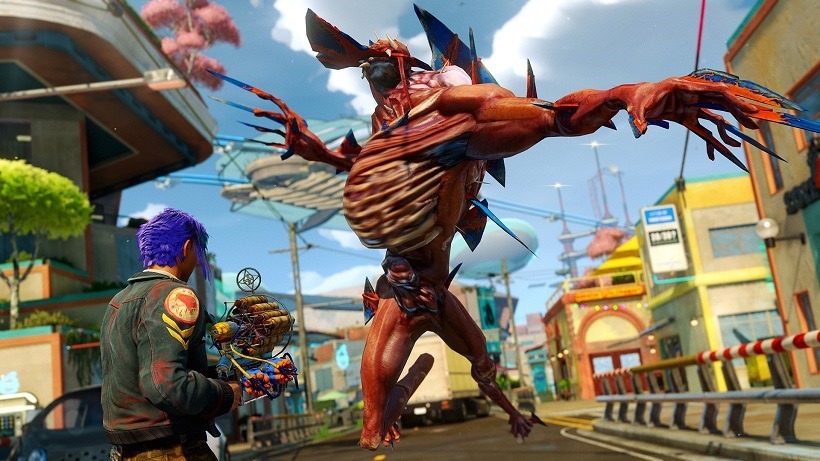 Sunset Overdrive was one of those games that you either loved wholeheartedly, or just never understood. Insomniac's Xbox One exclusive was filled to the brim with punk attitude, colourful visuals and ridiculous monsters, and yet it all gelled together somehow. It's still one of my personal favourites on Xbox One, and I'd love for more people to be able to play it. So would Insomniac – but apparently it's not entirely up to them.
Responding to a fan on Twitter about an issue that has been nearly two years in the running, Insomniac stressed again that they're eager to have Sunset Overdrive release on PC. Unfortunately the decision isn't up to them, and it would have to be Microsoft deciding whether to sign off on it. Considering they've done so with past Xbox One exclusives before (such as Dead Rising 3 and Ryse: Son of Rome), it should've happened by now for Sunset Overdrive.
@MegapiemanPHD we'd love it if it could happen but ball is in Xbox's court on it

— Insomniac Games (@insomniacgames) 26 September 2016
Microsoft's only condition in the Sunset Overdrive exclusivity deal was allowing Insomniac to keep the rights to the franchise, which makes this all the more curious. Unlike other Insomniac IPs like Resistance, Ratchet and Clank and Spyro, Insomniac could really do what they like with Sunset Overdrive. Having to require Microsoft to sign off on a PC port might just be a silly clause in that deal, but it certainly looks like they'd be up to it.
And they were – back in 2014. Right now though the independent studio is hard at work on three (yes, three) VR games, while also working on the PS4 exclusive Spider-Man game which was revealed at E3. Even if Microsoft miraculously changed their minds now, it's unlikely that Insomniac has the hands to actually make Sunset Overdrive on PC happen. Which is just a right shame.
Last Updated: September 28, 2016