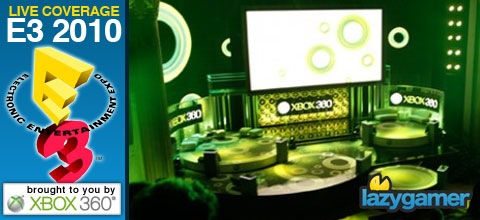 Judging from last night's underwhelming event, probably not. While the Redmond behemoth easily stole the show last year, with their Project Natal reveal and announcement of Metal Gear finally making its way to the 360.
Last night's keynote had no such impact; The big exclusive games they showed – Gears of War 3, Halo Reach and Fable 3 – were all games we knew about ages ago, and even the reveal of the newly redesigned Xbox 360 was spoiled by a leaked advert. The problem? It all boils down to Kinect.
Microsoft's keynote focused largely on Kinect, the recently rebranded controlerless motion peripheral. A problem – which many suspected – is that Microsoft were trying to capture the casual market, the family oriented stuff that's made the Wii so successful. That problem was realised last night when all that was showcased was a series of very casual Wii-like games.
Admittedly the Kinect technology seems to be working pretty well, and games like Dance Central and Kinectimals will no doubt elicit squeals of pure joy from young gamers – and money from the wallets of their parents, but there was almost nothing shown for the "sore" gamer. Sure, there's that star Wars thing – but it looks to be a guided, on rails experience – and the lightsaber action seemed more like that of a glowing baseball bat.
The one announcement that will no doubt have an impact on local gamers is that of Xbox Live finally being launched in South Africa. The press release alluded to a launch time of "this summer" so it'll be before the end of the year. The most immediate impact this will have is there'll be many, many new local  players and downloadable content should no longer be blocked or additional content removed from special editions of retail game.
It wouldn't take much for either of the other console manufactures to have a more impressive E3 showing though. Nintendo is believed to be showcasing a new Zelda title and quite possibly entertain us with how they intend to use that silly vitality sensor. I also expect more Metroid Other M footage, and perhaps the announcement of a new game or two from Nintendo's rich legacy.
All Sony really needs to do is show Last Guardian, Killzone 3, show some "core" gaming experiences with Move and announce just one as yet unannounced game and they've got it in the bag.
What were your thoughts on Microsoft's keynote. Did I get it all wrong? Did you find it incredibly exciting?
Last Updated: June 15, 2010