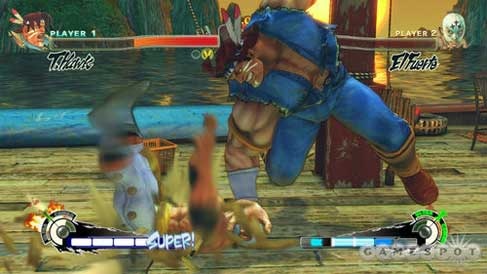 Rumours have been flying around the internet for some time now regarding the next iteration of the Street Fighter series. Well, it's now been confirmed – and  Capcom are continuing their tradition of adding superfluous prefixes and suffixes on to their Street Fighter revisions.
The next game – Super Street Fighter IV -  will be a new disc-based retail release as opposed to DLC, but before you get your panties twisted be aware that the changes to the core game are quite substantial, and that the game will be selling at a reduced price. Capcom have also promised a little something to owners of both discs, but details on just what that something may be are elusive.
Ht the jump for details on what's new.
The first addition that will be noticed is the new characters – According to Gamespot 8 new characters will be included, of which 3 have been announced. Making their return from Super Street fighter II, we'll see both T.Hawk and Dee Jay. We'll also get to play as an all-new character Juri (not to be confused with Alpha 3's Juli) who works as a servant of Seth. The rest of the additions to the roster have yet to be announced, but rumours point to favourites from SF3 and Alpha 3. It's safe to assume that each new character will bring with them a new background stage.
Each character will also be tweaked and refined, leading to greater balance. In addition to tuning, returning characters will each get a secondary Ultra Combo, so old-hands will still have new things to learn. The biggest addition – although details are scant – as far as I'm concerned is one of multiplayer lobbies. Street Fighter IV's superb multiplayer was severely let down by it's lack of decent lobby system – and I'd gladly shell out again for the game just to have one. This should keep Street Fighter aficionados happy. At least Until Super Street Fighter IV Turbo : Eleventh Smash is announced, that is.
The game will be out on consoles in Autumn of 2010, with no word yet on a PC version.
Read more hands-on from Gamespot
Last Updated: September 29, 2009