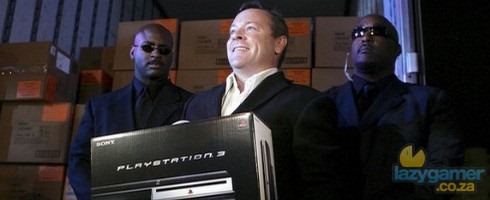 Jack's back and that's a good thing.
Is it just me or has Jack Tretton been a bit quiet over the past couple of months? Well he's back now and he is as good as ever, first up we have Jack stating that he is very happy with the numbers and that he see's this as proof that people have always wanted the PS3 but it was just priced out of the market before.
"Skyrocketing sales, couldn't be happier with the numbers that we're seeing, and I think proof that there was tremendous consumer demand, they were just waiting for the price-point to come down"
I think you will find that everyone agrees with you here Jack, the PS3 has always been a good machine but it wasn't worth the original price tag and was a push at the previous price. Now it's perfect.
But Jack being Jack didn't stop there and he continues on to state
"I love [Microsoft's] money. I think they can afford to be more patient, we're very profit driven, we're interested in return on investment in a fairly short period of time. I think Microsoft is prepared to go at it from a very steep curve in terms of profitability"
Which doesn't make much sense seeing as how Microsoft's Xbox division claimed profitability and Sony has yet to make that claim…
He then turns his attention to Nintendo
"Nintendo is almost the polar opposite. They know what they do well and they stick to it. They deliver a casual, youth-oriented entertainment experience that's very enjoyable after 20 years. And they make money, they print money. Their profitability is their key focus and features are nice but profitability is king and I think that is enviable"
You have to hand it to Jack, he is really good at getting a jibe in while complimenting his competitors, but did he just say that the Wii has double the life expectancy of his beloved PS3?
Nah we love you Jack and welcome back, it's good to see that all three consoles are going to make it out of this generation alive and kicking.
Source: Destructoid
Last Updated: October 6, 2009