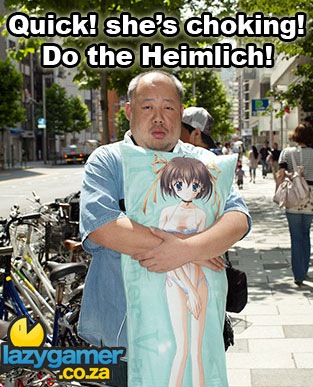 Man, I love Japan. For all it's beautiful old-world culture, it finds dichotomy as a hotbed for the lunatic fringe. Today we bring you news of a 37 year old man who has fallen in love – and believes he maintains a meaningful relationship – with a videogame character; who happens to be a 10-year old girl.
The man – who refuses to be called by his real name, opting instead for "Nisan," meaning "big brother" – carries with him a stuffed pillowcase depicting his underage, fictional Objet d'affection. His girlfriend is the 10-yea-old Nemutan, a character in a 2D dating sim called Da Capo. While he apparently knows she isn't real, that doesn't mean the relationship isn't;
"Of course she's my girlfriend," he says of his paramour. "I have real feelings for her." He takes her out on weekends, sings karaoke with her (presumably not duets), and takes photo booth pictures.
As for the hopeless romantic, he's happy, and that's what counts, right?  "When I die, I want to be buried with her in my arms," he explains. Awwww. I just don't really wanna know what ELSE he does with that pillow.
The phenomenon of people engaging in relationships with faux suitors is apparently a growing one, and highlights just how screwy certain aspects of Nipponese culture can be.
Source : The New York Times
Last Updated: July 24, 2009