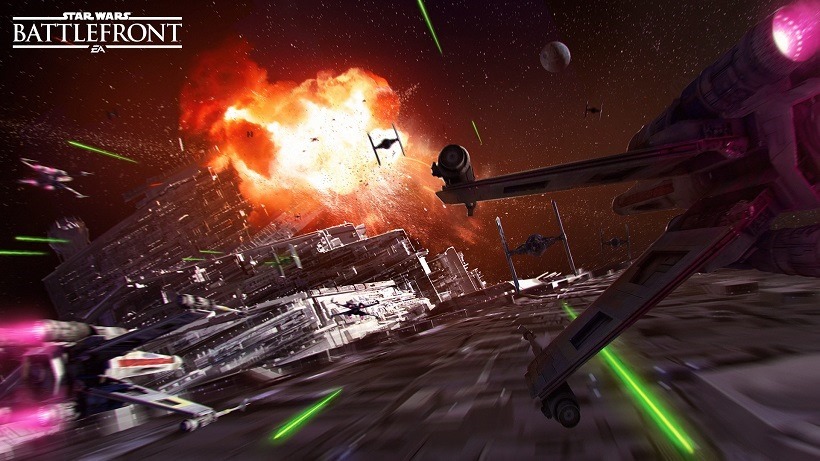 If you happen to still be playing Star Wars Battlefront (because its actually a pretty entertaining Star Wars shooter), and you happen to have bought into the ludicrously expensive season pass, it's about to pay off. The final DLC part of the pass brings the most recognisable piece of Star Wars to the game, as players step foot into the Death Star for the first time. But aside from new maps and heroes, the Death Star DLC offers the biggest change to Battlefront since launch. And it looks rather fantastic.
It's split into three parts, two of which reintroduced the most glaring omission from Battlefront – space battles. You'll hop into X-Wings and TIE Fighters in equal teams, engaging in massive dogfights around the deathly battle station. From there, you'll storm the Death Star on foot, before hopping back into orbit for the climatic trench run from A New Hope. It all looks positively exhilarating, in a way that only DICE could put together in a trailer.
The other two big addition with the DLC pack are two new heroes for both good and evil. The rebels get Chewbacca, who brings along his iconic Bowcaster to do some truly ridiculous damage to enemies. He's also able to let out a roar (I think that's what it is) to buff nearby allies and increase his own armour. Bossk, the reptilian bounty hunter joining the Empire, is a little more sneaky. He's got an infrared vision mode to see through smoke and the dark, while all his damage will return a percentage to him as healing. As an assassin, that sounds rather tempting.
It's a healthy dose of content to round off a rather tepid response to Battlefront as a whole, as DICE presumably shifts gears now to focus on the already confirmed 2017 sequel. For all its faults, Battlefront remains an entertaining shooter for any Star Wars fan to engage in. And the Death Star just makes it that much sweeter.
Last Updated: September 19, 2016