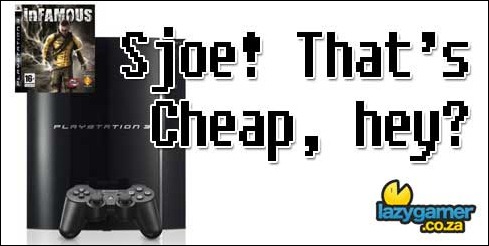 Ok, yes – The title is somewhat misleading, but it's almost true! If The matte-black finish of the PS3 Slim doesn't quite tickle your fancy and you'd rather have the shiny, hulking mass of the regular PS3 taking over your living room, then Kalahari.net has a deal for you.
For just R3,569.96 you can get 7 Kilograms of cell-powered gaming goodness delivered to your door. Included in the bundle is a copy of Super-Hero sandbox game inFamous to sweeten the deal. If it also included a bevy of long-legged Swedish hookers ladies then you'd find me on a standing atop a soapbox, proudly proclaiming "THIS IS LIVING!"
If your wallet currently has a credit-card sized fire burning through it, click here to extinguish. Buyer's remorse sold separately.
There's no information on the site as to how long this price will last, but it is marked as having a regular price of R4199.95. 630 bucks off? Sweet!
[Thanks to clintoshea for the tip]
Last Updated: August 25, 2009