I've got an odd fascination with some Japanese pop culture. I'm talking franchises like Power Rangers, Godzilla and my current favourite anime series Little Witch Academia. There's just something utterly bonkers about the way that the Japanese handle entertainment that defies all logic and still earns plenty of chuckles along the way.
Also Geoff just burst into my office and has begun singing the SpectreMan theme song and now I'll have that stuck in my head for the rest of the day. Spectre-bastard. Those examples above? You've probably heard of them, but how about Kamen Rider then? You ever hear of a long-running Japanese live-action franchise that features a mysterious biker battling armies of insectoid monsters?
Trust me, it's awesome and has been since its debut way waaaaaaaay back in 1971. Japan without Kamen Rider is like the Princess Bride movie without the word "Inconceivable". Which is just…crap I've written myself into a corner here. ANYWAY, Kamen Rider. One of the pioneers of the Tokusatsu genre in Japanese entertainment, and no stranger to the video game scene.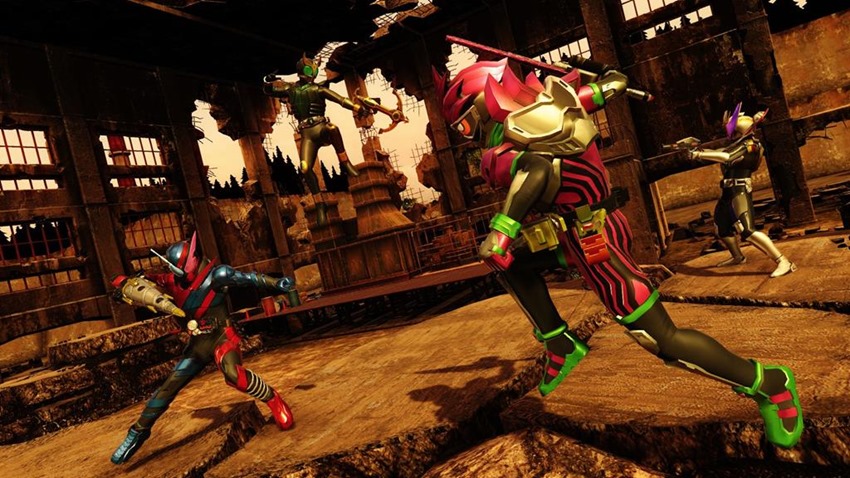 It's about time that a new Kamen Rider game was produced. Which is exactly what's happening, as Bandai Namco have announced that Kamen Rider: Climax Fighters will be out this December. Here's the trailer for it:
Here's the catch: It's only going to be released in Asian markets. For now, as an English localisation has been confirmed for that region as well. While that's perfect for the tens of people who do speak it, it's most likely also a move that guarantees a Western release. I hope. Because this looks like the dream version of the Kamen Rider franchise.
You've got all the Heisei-Era Riders that stretches from Kamen Rider Kuuga through to the new Kamen Rider Build assembles, dynamic levels and fatal fourway match setups. I'm in Kamen heaven over here. Now pardon me while I go brain damage myself further in an attempt to get the SpectreMan song out of my head.
Last Updated: September 12, 2017