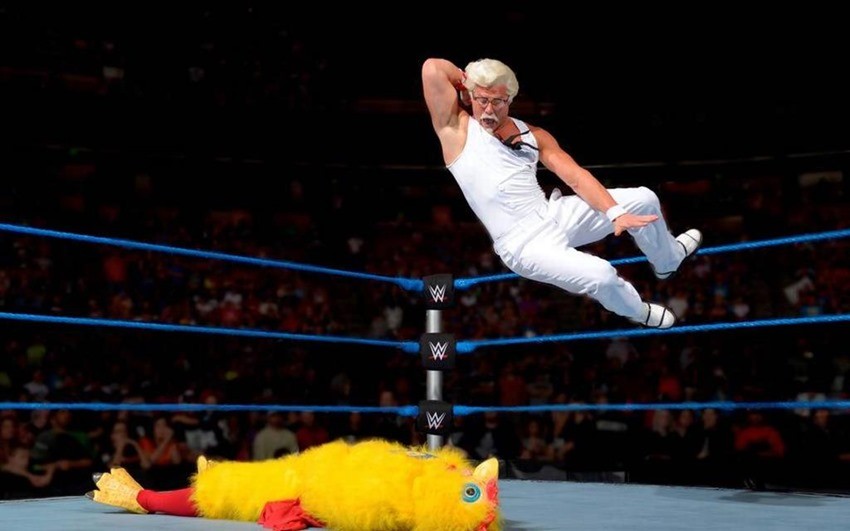 WWE games at their very best, have always been comprehensive power fantasies that give you more than enough tools to create a wrassler who happens to be your digital doppleganger. That experience is being somewhat soured this year by the fact that WWE 2K18 is also gating plenty of its content within loot boxes, even though the developers say you won't have to spend a single cent on them and yeah right pull the other one.
Looking to dodge that buck-whoring bullet, 2K Games have announced that an American icon (alongside Austrian superstar Arnold Schwarzenegger as the Terminator) will make his presence known. The duke of deep-fried! The crispy conquering colonel! The finger-lickin' and ass-kickin' superstar known to people around the world as…
Colonel Sanders.
The only thing better than one Colonel Sanders is one Colonel Sanders plus one WWE Superstar who looks a lot like Colonel Sanders. pic.twitter.com/lLPmEKvN36

— KFC (@kfc) October 9, 2017
Not a joke, not a dream or a hallucination from Earth-3 where KFC triumphed in the Fast Food Wars of '09, but an actual bonus within WWE 2K18. That has a catch attached to it, because of course it does. The good colonel will need to be pieced together within the create a superstar mode, most likely from parts earned from the loot box system. On the plus side, there are also some new achievements/trophies to earn…that are sponsored by Snickers and KFC.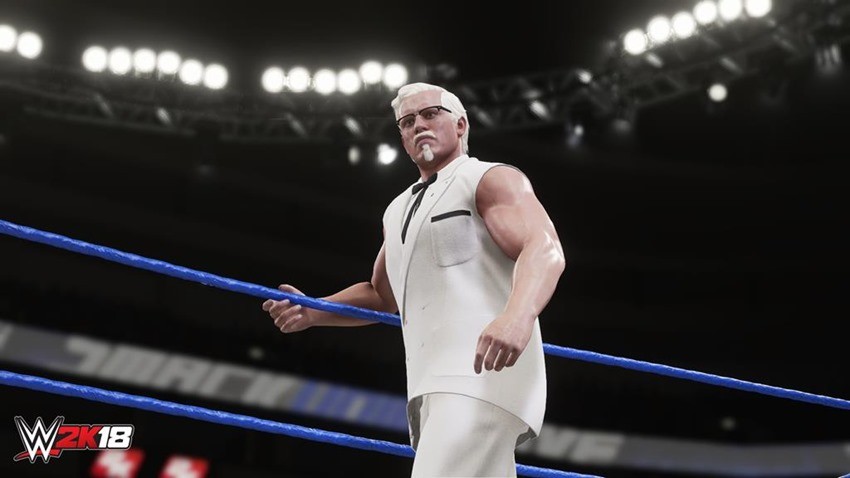 Well alright then.
I'm still keen on WWE 2K18, but I've got a horrible feeling that the heart and soul of a franchise which gave birth to some of the greatest wrasslin' games in history is going to have a little less soul and heart inside of it thanks to rampant nickel and diming practices. Hopefully the core game is salvageable and…finger-lickin' good.
Last Updated: October 11, 2017