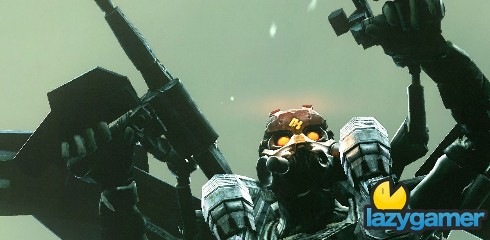 Yesterday while we were arguing over whether or not Killzone had me-too'd the jetpack feature some journalists in Europe were being treated to the grand unveiling of Killzone 3.
IGN and VG247 have both put up their impressions from the event which are well worth a read.
The most important things I picked up from the previews were that the title is looking spectacular which really isn't much of a surprise. It has been built on top of the existing Killzone 2 engine and along with the expected polish Guerrilla Games have also added a lot more colour into their palette to help liven things up.
The 3D integration is apparently also flawless leaving respected journalists waving their hands in front of them to try and touch the 3D enabled effects.
There is a new rocket launcher, WASP, which allows you to fire a whole swarm of rockets at your intended target and transform yourself into a one man army.
Those jetpacks we spoke about were also involved in the preview and according to reports they handle like an absolute dream and obviously have been lovingly included instead of being wedged in to compete against Halo.
The melee attacks have been beefed up and we can now pinpoint exactly where we would like to dismember our opposition resulting in a gory death for all those who oppose us.
However the best news about this entire preview is that they weren't bombarded with BS CGI films or outlandish promises, they were simply given the game for a hands on run through and then guided through some extra features.
The game is going to be available for us to play at E3 2010 and we'll be bringing you our hands impressions as soon as we manage to get some time with it.
Until then let's hope these direct feed screenshots help pass the time.
Last Updated: May 25, 2010