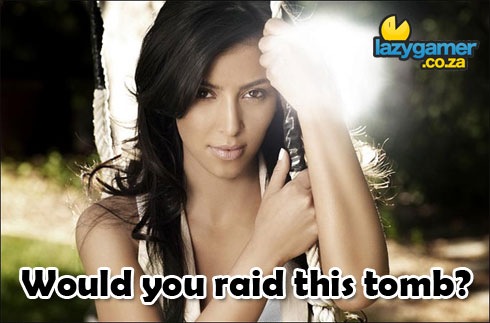 The Tomb Raider films were – like most video game to film adaptations – mediocre at best. Despite the star power of Angelina Jolie's buxom breasts and ample lips, the films were let down by  rubbish, senseless plots and equally senseless action scenes.
That doesn't bode all too well for the next Tomb Raider film, if the rumours about who'll be filling Jolie's shoes are true.
According to Hollywoodnews, Kim Kardashian – famous for…showing her boobs, having a rather pronounced posterior and some other reasons I've been unable to ascertain – is set to be the next Silver Screen Lara Croft.
"This will be something very different to Angelina's Lara," says their mystical spy source. "Kim is wanted to play a far more comic-strip version of Lara which would be shot in 3-D and aimed at a teen audience."
"She gets scripts sent to her all the time, but unlike so many other famous people she doesn't just want to make a film without first learning the craft," the source added.
What do you think? do you think Ms Kardashian could be the next Lara Croft?
Source : HollywoodNews
Last Updated: June 9, 2010