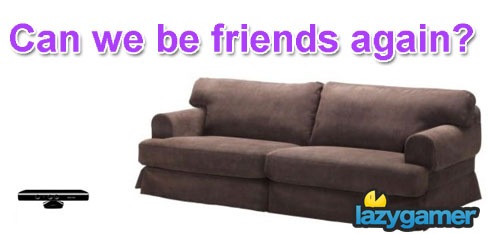 One of the coolest aspects of Kinect is in how the user interacts with the console's interface – getting all Minority Report. when news that kinect wouldn't quite work when seated, it deflated that bubble a bit. What use is an awesome new way to interface with your console if you can't do so whilst sitting your lazy ass down?
Joystiq got to try out Kinect's menu and movie controls whilst sitting – and their report is pretty positive.
Apparently the version of Kinect running at Gamescom is improved from the one at June's E3 – and the device is set to receive even more updates before it ships in November.
Here's the list of seated positions they tried, and the results.
Sitting in a chair: Definitely works.
Sitting on the floor: Works.
Reclining while facing the Kinect: Works.
Reclining with the Kinect at our side: We couldn't get this to work, but we've been told that it will by launch.
Using another human as a coffee table :  Kinect recognized the person behind the human coffee table trying to control the movie.
This is pretty positive news – and those of you looking to use Kinect as a very expensive remote control can rest easy in the knowledge it'll work as intended.
Source : Joystiq
Last Updated: August 20, 2010