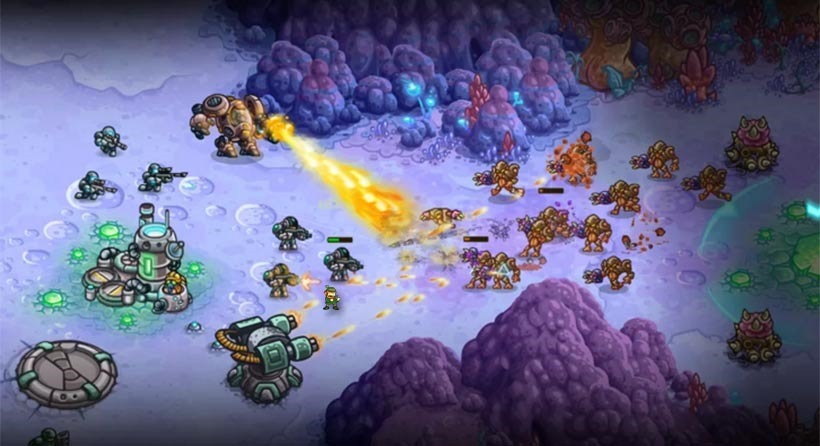 REINFORCE! If we ever had to compile a list of the top ten mobile games ever made, spots 1-100 would belong to Kingdom Rush. It's a massive favourite in the Lazygamer office, a highly-addictive tower defense game with a fantasy setting and gameplay that just works beautifully. The last time Kingdom Rush was heard from however, was in the final game Kingdom Rush: Origins.
Its had some free stages and DLC added to it since it released in 2013, but that chapter had pretty much closed. So what has Ironhide Studios been up to since then? Ditching fantasy for sci-fi, with their upcoming Iron Marines mobile game. Here's the first teaser for it:
"Have you played StarCraft?" Ironhide Game Studio cofounder Gonzalo Sande said to Polygon. "It's like a mobile version of StarCraft."
All the elements are naturally there. Science fiction, soldiers, guns and aliens which deserve a bullet in wherever their face-hole is. Sounds like peak StarCraft, but at the same time, Iron Marines obviously wants to be its own game instead of being perceived as a quick mobile knock-off of the Blizzard property. As Sande explained, this is a game for the casual mobile player:
It doesn't exist, a game that is an RTS for mobile, that is more casual. If you take an RTS game and you put it on a iPad, it's pretty complicated with the controls. What we tried to do is adapt it to more casual gameplay where you can play on the subway, everywhere.

It's a strategy game where you have to adapt and conquer. You conquer territories and you adapt your strategy depending on the kind of enemies that are attacking you. It's more like an RTS, but it's adapting to a mobile device.
Naturally, this means more simplified controls, and as few motions as possible so that players can select and move troops around the map. While upgrading their base and tackling danger of course. Ironhide says Iron Marines will be out later this year for iOS, Windows Phone and Android. There'll be a hero system in play, that opens up new tactics and paths, much like the ones from Kingdom Rush I'd imagine.
I like the idea of it. Mobile gaming is meant to be enjoyed in short bursts. Taking the strategy element and keeping it on the move, sounds like fun to me. REINFORCE!
Last Updated: March 17, 2016