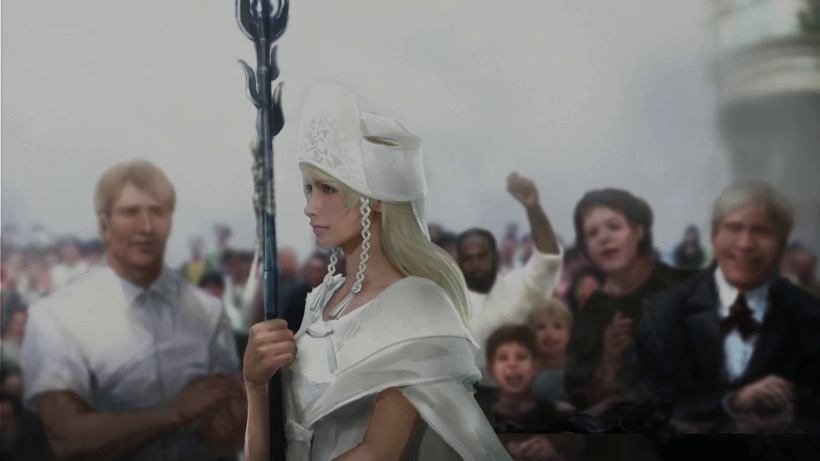 I'm predicting that Final Fantasy XV will become the Final Fantasy VII of this generation. I'm hoping the game itself is as good as Final Fantasy VII, although let's all be honest now, VII isn't necessarily the best Final Fantasy game, unless it was the first one you played. There's a special place in everyone's heart for their first Final Fantasy, but we all know VI, VIII and even X were underrated. But that's besides the point here – Final Fantasy VII was so beloved that it go a movie spin off and tons of love and attention from Square Enix. This time, they're planning that in advance for Final Fantasy XV, and it might just be what the franchise needs.
Announced alongside a plethora of other FFXV media, Kingsglaive is a full-CG movie based on Final Fantasy XV including the voice acting talent of Lena Headey and Sean Bean. But now we have some new screenshots thanks to Gematsu. Check them all out here:
I love the modern look of this game and CG movie. The characters have a sort of cyberpunk look to them, and I'm intrigued by the combination of fantasy and mechanics – it's a staple of the Final Fantasy franchise in general, but it seems to be taking a bit of a new approach this time around. Coming out in Japanese theaters on July 9th, the English version is planned for release via stream, download and Blu-ray. And there are some new tidbits of information that have taken me from intrigued to fully-piqued interest.
The Kingsglaive guard will battle Final Fantasy series monsters like Ahriman one after the next. The Kingsglaive guard can also use magic, as well as the "Shift" ability where they first throw their weapon to warp. The Kingsglaive guard was established with a focus on immigrants. Although criticized by some, carry out their missions with pride.
A group of misfit immigrants who will defend the Kingdom with pride. This is certainly a story that Japan needs in general, and the rest of the world needs right now. It probably wasn't planned this way, but this is exactly the story we all need to hear. Plus, it will hopefully keep us satisfied while we wait for the game to be released. Right? Oh, who am I kidding – just give us all the game!
Last Updated: May 27, 2016