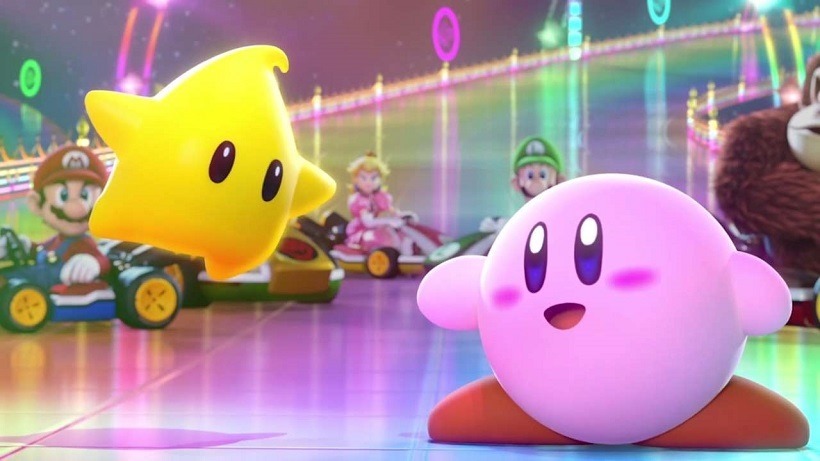 I've never played a Kirby title (shun me), but I'm nevertheless a massive fan of the enigmatic little pink ball. Kirby is an absolute nightmare in Super Smash Bros., stealing enemy powers and abilities and shape shifting to any required situation. These abilities have served him well in the past, but I think Kirby's latest title, Planet Robobot, is seriously trying to push that to an extreme.
I mean, just look at him go. What other platforming hero do you know is cocky enough to whip out a chemistry table, mix a few chemicals and end up creating something useful in the heat of battle? All while staying just as charming and cute as ever? I think Kirby has that incredible niche category nailed down.
As for Planet Robobot itself, it looks like standard Kirby platforming fare with a massive array of abilities and weapons to experiment with. One of those happens to be a giant mech, which you're able to pilot for short segments on specific levels. A mech which you're also able to customise to your heart's content – because everyone needs to rain down destruction from a hulking piece of machinery adorned in pink paint and flowers.
Planet Robobot also features a side co-op RPG game, which you and your friends can link up with online and paly. There's also support for the new Kirby Amiibo line coming out (as well as existing Amiibo) and enough colours to ensure that you know this is a game coming from Nintendo.
Kirby: Planet Robobot is out in Japan at the end of this month, and is reaching everywhere else in June later this year.
Last Updated: April 14, 2016