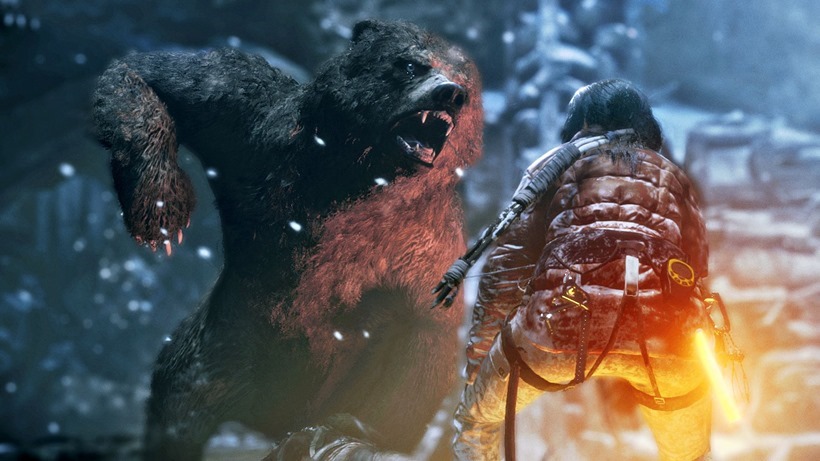 Rise of the Tomb Raider is under three weeks away (and gold already) so it's about time Square Enix revved up the hype engine and started reminding Xbox players why their game is the blockbuster of the holiday season. That's not hard considering how good the original Crystal Dynamics Tomb Raider was, but its sequel does have more than a few enhancements to the exists system. Enhancements like more hostile, dynamic wildlife, that Lara obviously has to kill.
In the first episode of a new series called Woman vs. Wild (anyone else cringe a bit?), we're treated to a look at how Lara will have to adapt to survive in the many wild environments she finds herself in. Not only that, but players will have to kit themselves out to tackle some of the games largest tombs – with most being protected by extremely dangerous animals that won't be dispatched with a wooden bow and arrow.
Equipment and upgrading looks to have stayed the same, with Lara having to scavenge resources in order to choose weapons to enhance, upgrade and cater to certain situations. These feed directly into the style of game you want to play, with shotguns and the like aiming for a more in the face approach while silent arrows keep you striking from the shadows.
But the most exciting part of the gameplay is a look at the game's small hub worlds, which are said to be two to three times bigger than anything in the previous game. This provide Lara with a little sandbox to toy around in, as well as offer new side activities from locals for players to undertake. It's probably going to be a good change of pace from chasing the militarised Trinity around the globe.
Rise of the Tomb Raider is out on Xbox One and Xbox 360 on November 10th, and next year for everyone else. It's looking pretty good right now.
Last Updated: October 22, 2015