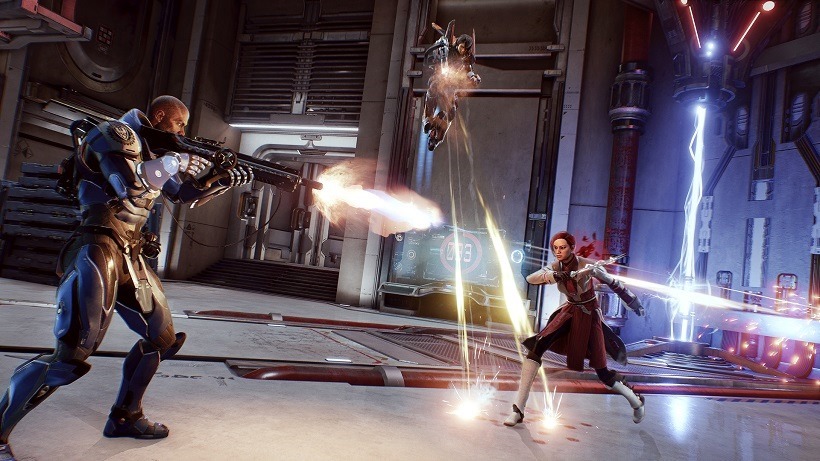 If there was ever any doubt that Lawbreakers was spawned from the mind of Gears of War creator Cliff Bleszinski, the latest trailer for the very aerial, very fast multiplayer shooter probably put those to rest. Hot on the heels of a recent preview session, Lawbreakers has received a brand new gameplay trailer full of profanity, violence and gloomy future world views, And frankly, it's all looks like something I want to play today.
Lawbreaker takes place in the near future where gravity has essentially been broken, giving the lawless and new way to do…well unlawful things. This leads to a war between some of Earth's most powerful criminals and a shoot now, questions later law enforcement that has been tasked with taking them down. The result is a fast, arena-like shooter that takes a lot of influence from past titles like Unreal Tournament, and more recent offerings like Team Fortress 2 and Overwatch.
What gets me the most about Lawbreakers is its verticality. The maps we've seen all look like they're suspended in the air, which actually plays well into the game's unhinged verticality. Whether you're throwing out slingshots to nearby walls or using a jetpack to hover around the map, Lawbreakers looks like a shooter where danger can literally come from every angle possible. Nevermind the fact that rocket kicking an opponent off the map isn't something that confirms a kill here.
Lawbreakers is coming to PC exclusively for now and runs on Unreal Engine 4, and you can check out a whole host of gameplay from IGN who managed to attend the preview event last week. If you like what you see, Closed Alpha sign-ups are open now, with developers Boss Key promising to open its doors very, very soon.
Last Updated: April 22, 2016