The season came to an epic climax as the top two teams in the league battled it out in a winner takes all match. Zonked Mandable and Zeo143 squared off to compete for the league title.
Zonked started the stronger but was unable to make a flying start. However he persisted with his short passing game and was able to unlock Zeo's defence with some quick interchange to send Dani Guiza through one on one against the keeper. He then showed cool composure to finesse the ball into the back of the net.
Just before half time Zeo struck back to equalise. Francesco Totti cut in from the left and placed a wicked shot into the top corner. Zeo continued strongly into the second half but was just lacking that little bit of luck to get the goal.
Midway through the second half, Zonked looked to have missed a golden chance when he rattled the post. However the pressure got to the defender, whose panicked clearance went straight to the opposition. Zonked found his man Miroslav Klose, played onside by the defender, for an easy finish for the lead.
In the dying moments of the match, Zonked won a corner, and Bordon sealed the win with a header to take the win and the spoils. Zonked won the league thanks to his 3-1 win.
The league table was decided, and the qualifiers for the Super 8 were solidified. Zonked, Zeo, Fieks, Jonaso, N Bullet, seethroughme, KeithNair and Dion Govender will all campaign for additional honours.
Drogba took the top goalscorer award with 15 goals from 17 games, with Forlan second with 14, and Dani Guiza getting 12 in third.
Fernando Torres won the best player award for the tournament, followed by Daniel Agger and Yaya Toure.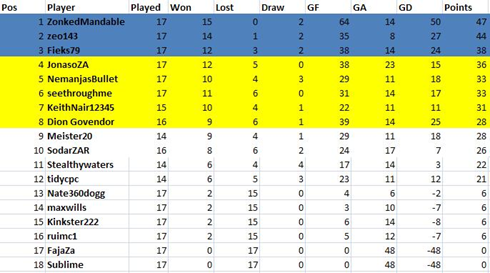 Thanks to all the guys for competing and a big thanks to EA for putting up the prizes and supporting the local community.
We will be starting a new league in a few short weeks so stay tuned for more information.
Last Updated: July 28, 2009