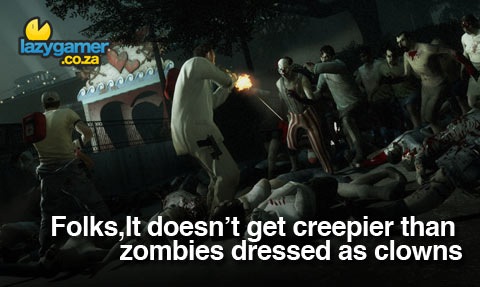 For those of you who didn't already know (like, err, check the post that went up earlier today), the Left 4 Dead 2 demo is available to download over Xbox Live right now.
The demo clocks in at just under 2GB but thanks to the marvelous folks from iPeg we have sponsored bandwidth for occasions just like this.
I have to admit that while I am a huge fan of the first game, I fell into the category of gamers who just wasn't ready for a sequel so soon. My hype levels have been very low for the game and while it looked pretty awesome (hey, more Left 4 Dead can't not be awesome) I had already put this game off as a dry season purchase for another day.
I headed off to the deep south to find out exactly what kind of mischief those gosh' darned zombies were up to… and then sort them out with kitchen ware.
First of all, this game has a playable character named Nick and as far as I am concerned, that gives it instant "legendary" status in my books and is an instant must-buy (statistics show that 99.9% of people named Nick agree).
That aside, there are a couple of other cool features as well.
The first thing that will strike you as kind of weird and different, is that Left 4 Dead 2 also takes place in the day. One would think that daytime would be less scary but it actually comes across as quite creepy.
The demo is nice nice and lengthy and covers a full campaign (along with split screen and online functionality) and has you playing from the daytime into the night.
What surprised me most about the game is the amount of extra features that have been added and how well they compliment the gameplay, let me run you through some of them.
There are a lot of new enemies in Left 4 Dead 2 which really mix things up. There are more Special Infected zombies now with additions like the Jockey, Charger and Spitter. You will also run into infected members of riot police, which means zombies wearing riot armour which protects them from fire in the front.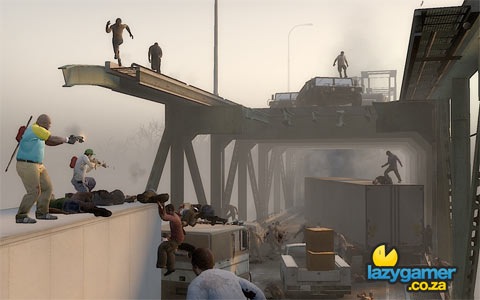 With new enemies comes new ways to remove their brains from their skulls. Melee weapons have now been added into the mix and provide a fresh new gameplay feature that allows you to swap out your pistol for something awesome like a frying pan, machete or even a guitar.
The level design along with the AI director, new infected and new weapons work together to create an exciting and hair raising experience as you and your fellow survivors do what it takes to make it out alive.
Left 4 Dead 2 also boasts a massive upgrade to zombie pwnzorizor-age. A new and improved ragdoll physics system and a the ability to dismember zombies really brings the game to life. Sure, it's even more violent now (wait, is this a bad thing?) but the action looks so much better and has an incredibly satisfying feel to it.
Graphics have been slightly improved, with the addition of motion blur, some polishing and some very good looking character models for the survivors.
I thought that Left 4 Dead 2 was just going to feel like the original Left 4 Dead, except for a couple of new features. The truth is that it really is just that, however the features added work so well and do so much for the gameplay and overall experience that I found myself donning an incredibly large grin throughout the entire campaign.
My interest in this game has gone up significantly, I have gone from not really caring about this game to really wanting to play it more. I only had the chance to play the demo in single player and my experience from the first game tells me that I haven't even touched on the real fun that is had when playing multiplayer.
To all those people that complained about the sequel coming to soon, I think you should trust Valve more, those blokes really seem to know what they are doing.
Last Updated: November 4, 2009