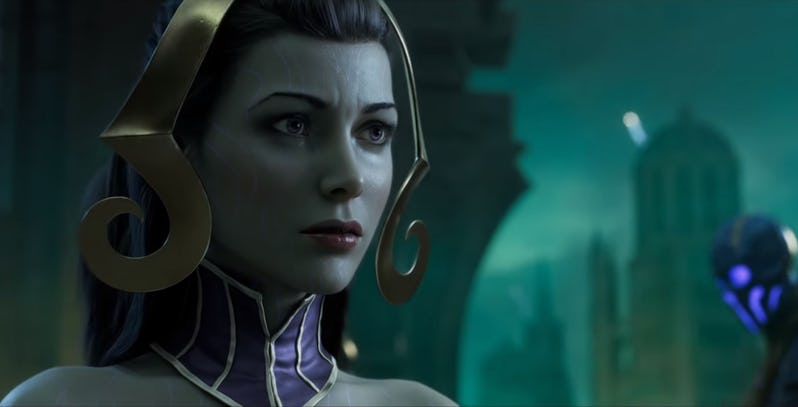 Magic: The Gathering might be over 25 year's old now, but I think one of the core reasons behind its longevity is its narrative and lore. It's quite rich and tries to bring a lot more depth to the game.
The next update coming to the popular trading card game is titled War of the Spark, which had a new trailer reveal at PAX East 2019 that may have hinted at the fate of one of the most iconic characters in the game's lore, Liliana Vess, the necromancer planeswalker who is seen in this new trailer fighting off series antagonist Nicol Bolas with an army of the undead.
This trailer obviously doesn't tell us much, either narratively or what to expect from the game. Its only big reveal appear to be Liliana getting the Thanos decimation treatment as she succumbs to her enemy against the backdrop of a cover of Linkin Park's In The End. It's fairly generic, but if you're a fan of the series, could point to a big moment that will make this new update standout.
The War of the Spark expansion will feature a number of historic firsts for Magic: The Gathering. War of the Spark will have a planeswalker in every pack, a first for a game that has usually reserved that card type for the highest rarity slots available, thus making them very difficult to open. War of the Spark will also introduce 36 unique planeswalker cards into Standard, another new initiative that will drastically alter the way that people play the game in both table top and Magic Arena settings. And its that Magic Arena which is the big talking point as the new digital platform has seen an uptick in magic players as people who were previously put off by the expensive card sets are now starting to get into the game again.
War of the Spark is due out on May 3rd 2019 and could further help to solidify the surge in players the franchise is seeing and hopefully offer enough differences in the gameplay to make it feel new and exciting to committed players.
Last Updated: April 1, 2019