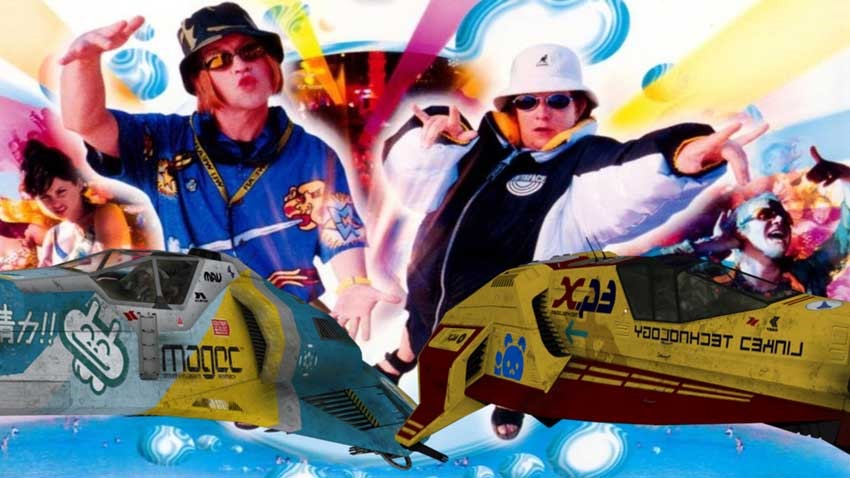 I like to think of WipEout as one of those seminal games of anyone's youth. A pulse-pounding racer of undeniable beauty for its time, smoother than the taste of Swiss chocolate when taking a corner at blisteringly stupid speeds and emerging out the other side in a burst of light. That on its own always made WipEout a winner, but doing all of that to the electronica beats of the time? Priceless.
There are just two weeks to go until WipEout Omega Collection hits consoles, and of course, it's bringing with it a new soundtrack to go along with those remastered visuals. Of course it is. Playing WipEout without that "doef-doef" musiek is like playing Call of Duty online without a tween randomly insulting your mum's lady bits: Unimaginable. Here's the full soundtrack list via the PS Blog (And some samples!), which includes some names that I recognise and a LOT that I don't because the crushing reality of my true age has begun to set in for me:
1. ADDIKTION – Shake It (Wipeout Omega Instrumental Edit)
2. Airwolf – Talking Bass feat. Stace Cadet (Taiki Nulight Edit)
3. Black Sun Empire & State of Mind – Kill That Noise (Wipeout Omega Edit)
4. Boys Noize – XTC (The Chemical Brothers Remix)
5. Brodinski feat Louisahhh – Let The Beat Control Your Body
6. Carbon Community vs. Burufunk – Community Funk (Deadmau5 remix)
7. David Tort & Danielle Simeone – You Got To (Wipeout Omega Edit)
8. DC Breaks – Breathe (Instrumental VIP Mix)
9. CODE:MANTA – DFCK
10. Dillon Francis & NGHTMRE – Need You (DJ Hanzel & Drezo Remix)
11. DJ Kentaro feat. Matrix & Futurebound – North South East West (Tha New Team Remix)
12. Emika – Double Edge (GeRM Remix)
13. James Talk – Remote (Deadmau5 Remix)
14. Jerome Isma-Ae & Paul Thomas – Tomorrow (Luke Chable Remix)
15. Krakota – Lust Thrust
16. Matrix & Futurebound – Glow Worm
17. Matt Anthony – Headlights
18. Memtrix – IC YR PAIN
19. Metrik – Bring It Like That
20. Movement Machina & Timo Vaittinen – Upsides Have Downsides (Wipeout Omega Edit)
21. Noisia & The Upbeats – Dead Limit
22. Red One – Born Free
23. Soundprank – Obsidian
24. Swanky Tunes – Give It
25. Swedish House Mafia vs Knife Party – Antidote (Swedish House Mafia Dub)
26. The Chemical Brothers – C-h-e-m-i-c-a-l
27. The Prodigy – Invaders Must Die
28. Warden – Get Down
I don't know about you guys, but I suddenly have a burning urge to grab some glow sticks, find a warehouse and b-b-b-b-bring like that in time to be raided by the cops as I leg it to the loo to responsibly recycle my uh…um…fast-acting Prozac pills. Yes, that. FLUSH FASTER DAMN YOU! WipEout Omega Collection hits PlayStation 4 on June 6.
Last Updated: May 26, 2017