I was flipping through the latest gaming brochure advert…thing from Musica (which you can digitally access here, if you're interested) and something on page 7 caught my eye. Proudly emblazoned on the top and bottom of the Xbox 360 advert page is a badge declaring that Musica is the 2009 Xbox retailer of the year.
When did this awards ceremony take place? Who decides these things? I don't recall any press releases notifying me that Musica was South Africa's Xbox retail champ. Seems this accolade has netted them an exclusive bundle – An Xbox 360 arcade with an extra controller as well as Splinter Cell : Double Agent and Assassin's Creed for the rather digestible price of R2699, evidence of which you can find after the jump.
So, congratulations to Musica for being crowned the 2009 Xbox 360 retailler of the year! Hooray! It does beg the question of who the Playstation 3, PSP, DS and Wii retailers of 2009 are – if such approbations even exist, that is.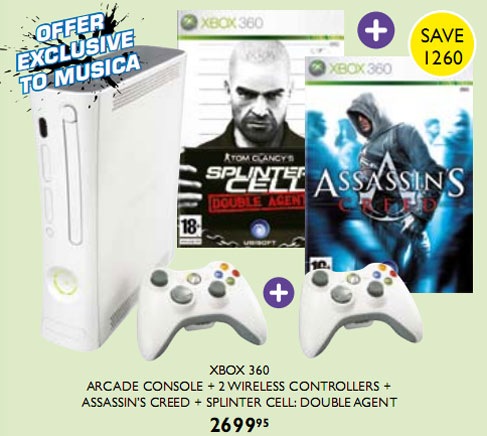 Last Updated: October 5, 2009